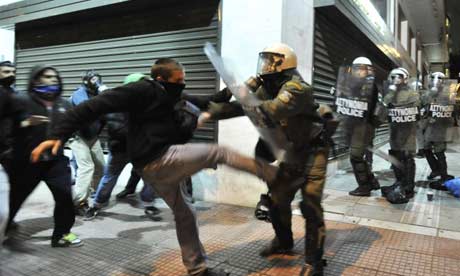 Has a shift on the fringes of politics to far-right and populist conservative parties
in Europe been a recent phenomenon? Or is it more complicated than that?
(Pic : The Guardian)
Back in January, Human Rights Watch warned that far-right politics in Europe were becoming more mainstream. No specific causes were outlined, however this has – in my opinion – inevitably come about as a result of the European economic crisis, as well as more localised problems which haven't been properly dealt with since the end of the Cold War.

Goose steps over Europe

It's worth pointing out that shifts to far-right, or populist hard right politics in Europe aren't recent. Since the threat of Islamic fundamentalism was brought to the fore post-9/11 attacks, countries in Europe with

small, unintergrated

minorities have seen a noticeable shift to the right, perhaps in a panicked attempt to "protect themselves" through limiting things like immigration.

The first major shift in modern times was probably the Austrian Freedom Party (

Freiheitliche Partei Österreichs [FP
Ö]

) under the leadership Jörg Haider, who was killed in a car accident in 2008. The Freedom Party won 27% of the vote in the Austrian federal elections in 1999, winning 52 seats, and eventually formed a governing coalition with the conservative Austrian People's Party.
Did the success of the FPO in 1999 "legitimise"
the far-right in European politics?
(Pic : Der Standard)
Although the
FP

Ö

at the time were more populist that outright fascist, Jörg Haider had expressed sympathy for select Nazi policies, was accused of anti-semitism as well as having links with Holocaust deniers. The election of the
FP

Ö

shocked Europe so much, that 14 nations introduced temporary diplomatic sanctions against Austria via the European Union. Eventually, the EU was forced into a rather humilating climb-down, but the precedent has been set, and it more than likely played a

role in

Haider stepping down from his role

as par

ty leader.

Despite an ongoing "professionalisation" of far-right parties like the French Front National and the BNP, this was probably the first time the far-right had been "legitimised" in Europe since the 1920s and 30s. This will, in my opinion, have had a knock on impact on other nations too.

Between 1998 and 2001, the populist anti-immigration Danish People's Party (Dansk Folkeparti) made a major breakthrough in the Folketing, winning 22 seats – a rise of 9. That's roughly the level of support they've remained at since, peaking at 25 seats following the Jyllands-Posten Mohammed cartoon controversy. They played "kingmaker" in 2001, offering their support to enable a right-wing coalition government to be formed, in exchange for changes to Denmark's immigration rules – now amongst the strictest in Europe.

The right-wing Flemish nationalist Vlaams Blok (now Vlaams Belang) were effectively disbanded. They breached Belgian anti-racism laws, once proposing a form of segregation in parts of public life and expulsion

of

non-European

immigrants

. They peaked at 32 seats – near enough a quarter of all seats - in the Flemish Parliament in 200

4

.
The populist anti-immigration PVV played "kingmaker" following
the 2010 Dutch general election. A trend seen in other European countries.
(Pic : BBC)
Further north, in the Netherlands, the Party for Freedom (
Partij voor de Vrijheid
[PVV]) managed to win 2

4

seats in the lower house Dutch general election of 2010. Under the leadership of the charismatic Geert Wilders – something of a hard line spiritual successor to the assassinated right-libertarian Pim Fortuyn - they adopted a strong stance on Europe, Islam and immigration. Like the Danish People's Party, they were instrumental in government formation through something akin to a confidence and supply agreement.

The hilariously-named Liberal Democratic Party of Russia – whose policies, which are neither really democratic or liberal, hint that they would try to hunt down and eat our Lib Dems – somehow have 56 seats in the Duma. They want the Russian Empire back, and they

wouldn't be afraid to

use nuclear weapons to get it back either.

In the present, however, two of the more significant far-right movements are perhaps the most worrying.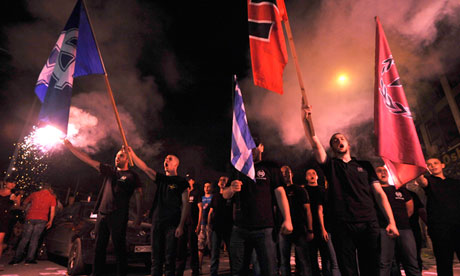 Golden Dawn - the first Nazis freely-elected in Europe since the 30s?
(Pic : The Guardian)
Between 2006 and 2010, Jobbik of Hungary came from nowhere to win 47 seats in the Hungarian Parliament. They once had a "uniformed group" that probably fell short of an outward paramilitary organisation, though they were disbanded by the Hungarian courts. Although they strongly deny any racism against minority groups – including the Roma - in 2012, a Jobbik MP called for the creation of a "list of dangerous Jews" who "pose a threat to Hungarian national security."

In Greece, since the torturous collapse of the country's economy, Golden Dawn

won

18 seats in the Greek Parliament. They have links to hooliganism, and have been implicated in violent attacks against political opponents and ethnic minorities. Their election slogan in 2012 was, "Rid this land of filth." They're probably the closest Europe has come to freely-elected Nazi's since 1933.

It isn't all rosy

Despite all this, far-right parties and populist right-wing parties very rarely get into "power". They generally, at best, end up as small players in coalitions

. O

r – as in the Netherlands and Denmark – remain outside of government entirely, only popping up to get a few concessions to prevent centre-right governments collapsing. So, I think there is a natural "glass ceiling" when it comes to the far-right or populist conservative

s.

Many of the parties I've mentioned have fallen back in recent elections. The PVV lost 9 seats in the last Dutch elections in 2012 for example. They were also responsible for that early election by withdrawing support for the ruling coalition, after a disagreement over

austerity measures

. Geert Wilders

was blamed by the coalition partners and, ultimately it seems, the Dutch public for it.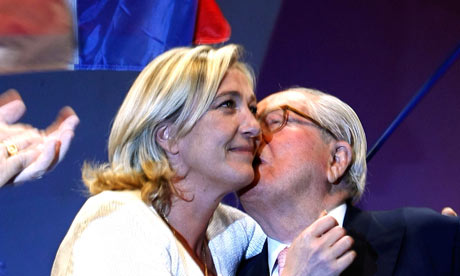 Despite grabbing headlines, the overall performance of far-right
parties in many European nations states is poor.
(Pic : The Guardian)
Germany's National Democratic Party (

Nationaldemokratische Partei Deutschlands

[NPD]) have never performed well at all levels of government in Germany

- perhaps understandably -

with only a dozen or so elected representatives in state legislatures. In France, despite high-profile, highly-visible successes in Presidential and European elections, the Front National perform poorly at local, regional and national level, with only two Deputies. In Austria

, the Freedom Party have never really attained the heights they did under Haider.



That's before mentioning the abject electoral performances of far-right parties closer to home.

I don't think there's anything more damning for liberal politicians than for the public to turn around and choose a far-right candidate over them. Barring legitimate concerns over some policy areas, it's the ultimate protest vote, boiling down to, "I'd rather vote for a Nazi(ish politician) than you." But I don't think many people voting for them really want a far-right (or in many cases far-left) politician to represent them, more give the "usual lot" a very big kick up the backside.

The far-right in Wales and the UK
Have the EDL been and gone?
(Pic : The Telegraph)
Naturally, I've got to position Wales in this somehow.

B

ecause we have a right-wing government in Westminster, the far-right in the UK

,

Wales included

,

is perhaps neutered. We've already seen a tightening of immigration rules - with negative effects on the Welsh NHS - and a level of right

-

euroscepticism from Tory backbenchers in Westminster.

Something both far-left and far-right parties and organisations share is a lack of ideological unity, or splits in support by people seeking an "ever purer" version of their politics.
Internal problems within the BNP have led to them suffering said splits in support

. S

ome join

ed

or forming new parties, with the National Front seeing a teeny-weeny resurgence, and the English Defence League probably stealing the BNP's thunder as the most vocal "far-right" organisation on the island of Great Britain. Even the EDL have probably come and gone, as attendances at their rallies - which once mobilised thousands - have been reduced to a har

dcore.

The performance of far-right parties in Wales has been historically atrocious – though not quite as bad as Scotland – and I don't see that changing any time soon. There was a poorly-attended "

W

hite

P

ride" march in Swansea a few weeks ago, which is absolutely hilarious in context. Swansea is 94% white and that's one of the lowes

t percentages

.

However, in terms of the "populist hard right", things might be changing and it would threaten the Welsh Conservatives more than any of the other parties.
With UKIP presenting a - you could almost say "secular" - non-racist way to express disapproval over policy areas like Europe and immigration, as well as a strident British Nationalism, I don't think the future of the far-right in Wales or the UK is rosy at all.
Beyond Nigel Farage, UKIP don't really have much

, though that could change

. However, Nigel Farage could well be the BNP's executioner if he can convince enough people concerned over policy areas like immigration that he presents a creditable and socially

-

acceptable voice for them. That's probably the reason why there may be ex-BNP in UKIP

.
The BNP's executioner? Do UKIP offer a "softer", "secular"
more socially-acceptable voice for those concerned about
immigration and Europe?
(Pic : BBC)
T

hose ex-BNP were probably sold a lemon "we're not racist" schtick when selected as paper candidates by the BNP, and

some p

eople's opinions will change over time. Some don't, and they

'

ll probably embarrass UKIP. Opposing high levels of immigration or the EU - even if I don't agree with that - doesn't mean you're a racist as long as you present a rea

sonable argument

. I do

believe

parties like UKIP have failed to do that, and they

'

re far too reactionary.

But in my opinion,

a

ll that would be is a shift to a "populist hard right" similar to Denmark and the Netherlands. That would be much more

preferable

than a move to neo-fascist organisations seen in parts of eastern and southern Europe.

Again though, I don't think there's any chance of UKIP being in position to run anything larger than a rural English district council. Their aim will likely be to drag the Conservatives to the right, and the rest of us out of the EU.

The EU : A last defence against fascism?
This is the first major economic downturn parts of Europe
will have faced since the end of the Cold War....and they're struggling.
(Pic : Wall street Journal)
Many self-styled rebels in western Europe might wear Che Guevara t-shirts as a reaction to a free-market orthodoxy.
Many younger people in eastern Europe of voting age, will not have grown up under the iron jackboot of Soviet

Communism

, which was nothing more than fascism with a heart.

They'll

have probably been told st

ories

of how brutal and re

pressive

it was, and how its collapse left their newly-emerging nation states in a weak position.

Those in eastern, and

perhaps southern

Europe, look to relics of long-dead glorious empires and the social order that used to "exist" under ultra-nationalist dictatorships. Remember that the Axis in WWII consisted of more than Germany, Italy and Japan; it included plenty of puppet regimes in eastern Europe and the Balkans too.

This resurgence of the European far-right is not only the fa

ult of the global financial sector

, but the mainstream, technocratic Christian and social democrats who dominate European politics.

In the west and south,

t

hey've failed to get a grip on issues like the high cost of living, they helped to

prop up and

create housing bubbles and in some c

ircumstances

they've mortgaged the future of their younger generations to pay off the mistakes of the present.

In the east,

while the cost of living remains low compared to the west,

they're just getting through the first major economic downturn since the fall of Communism

. I

n some countries like Latvia, it's caused property bubbles to burst, while elsewhere they're experiencing double digit unemployment rates and high levels of poverty, used to explo

i

t inter-ethnic tensions.

Meanwhile, EU institutions have become cumbersome and wasteful – perhaps in some circumstances causing more problems than they're supposed to solve.

The trouble is that

as soon as

mainstream politicians and parties are seen to be failing to address issues like th

ose

, at a time when things are tough and people are scared, charismatic individuals come to the fore offering simple soundbite solutions to complex

issues

. Sometimes they only

offer

a

closed fist and a jackboot.

When you've exhausted all avenues with "traditional" parties, what else have you got to turn to?

There's one firewall though. All those nations, by and large, still want to be "part of the club" when it comes to the EU, even if levels of scepticism and uncertainty about the EU itself are on the rise. If they shift towards fascism rather than a populist, UKIP

-

style "tough on crime and immigration" stance, it would generate enough disgust within the EU to trigger sanctions – be they economic or social – and that would play a role in bringing them back into line.

This is going to sound ridiculous, but for all its faults, we should start to position the EU in terms of it being the last line of defence for European liberal democracy.