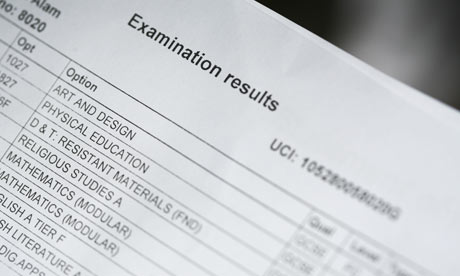 GCSE and A-Level results have been pounced on as
usual. Is it time to scrap traditional grading altogether, before
everyone loses confidence in the exam system?
(Pic : The Guardian)
(Owen : I've been on a break by my standards, but rest assured normal service will be resumed next week – big time.)

Over the last fortnight, students up and down Wales will have received their grades for GCSEs, A/S Levels, vocational courses and A-Levels. I always remember it as slightly nerve-wracking, because I had high expectations of myself and where I wanted to go academically. There were hits and misses along the way.

I think people forget their own experiences of that. Even when I got my GCSEs more than 10 years ago, there was a sense that all the work for those two years was being undermined by a concerted effort to, well

,

make us look thicker than we actually were. These qualifications matter a whole lot more now than they did back in the days of O-Levels.

No employer of worth nowadays takes a job application seriously unless you have a serious number of qualifications (regardless of where they come from) as well as/or a significant amount of work experience (sometimes unpaid). At the higher-end of the scale, you're now expected to possesses a good degree from a good university, sometimes backed up by postgraduate or job-specific/professional qualifications.

So every time GCSEs, A-Levels

-

and increasingly, degrees

-

are written off in the press, the job prospects for school and university leavers get eroded further and further, even during the halcyon "good years".

One noted area of concern in the last week or so, has been the marking of GCSE English papers. Apparently, the boundary for a C grade was shunted upwards suddenly. Therefore, many students who would've got a C-grade ended up with Ds

-

which is in all effect and purposes a "fail" (A*-C grades are the only ones that count in practical terms)

. That

would deny them access to many further and higher education courses, unless they resit the GCSE.

The Welsh Government launched its own investigation into the marking scandal, and Education Minister, Leighton Andrews (

Lab

, Rhondda), has suggested that UK Education Secretary Michael Gove "pressured" exam boards to mark more harshly. That accusation could have some legs, but it'll be hard to prove I'd imagine.

First things first, why is Leighton concerned with what Michael Gove thinks/does in the first place? Education is supposed to be devolved, isn't it? The buck is supposed to stop in Cardiff Bay. If Leighton and the teachers are dissatisfied with the current system of exams, then shouldn't they use the powers available to change things here, instead of sticking with an out-dated and increasingly discredited system?

Perhaps Wales should/could adopt the Scottish system of Standards and Highers, or come up with something better on our own.

That's not a criticism, I'd back Leighton's stance on this, personally. It's just an observation. More on this at Plaid Wrecsam in two parts here and here.

It's politically advantageous for there to be a few sharp year on year drops in pass rates. Once Michael Gove has instituted his O-Level "reforms", and the exam boards "lower their grade boundaries to reflect the toughness of the new exam system....yadda,yadda,yadda", then I predict "O-Level" pass rates will suddenly go up, and pupils will be "leaving school/starting FE & HE courses, with the robust qualifications necessary for the modern workplace....blah,blah,blah."

Then we can start the process all over again in 15-20 years time once pass rates reach an unacceptably high level/can't be stretched further. Cynical? Moi?

Maybe there's another way around it – stop issuing grades altogether. Only give the percentage score, therefore employers, universities etc. will know precisely whom is better than whom down to the mark. Anyone who gets below a certain percentage (depending on level of the paper i.e. 40% for a higher-level paper, 60% for a foundation level paper) flunks it completely, so no "E grade passes" anymore (and I say that as someone who's been in that position on rare occasions).

Now, the spin would probably continue. We'll get headlines how the average percentage mark in GCSE Geography has dropped from 60.4% to 60.1%, but at least it'll be much harder for people to get jumpy about it. It'll be dull, technical and the only people concerned should be those opening envelopes – as results day should be.

A 9 year old getting an B in A-Level maths is a headline. A 9 year old averaging 59% across two A-Level maths exam papers is barely newsworthy.

It might make things more complicated for various institutions, but at least it'll go some way to giving peace of mind to everyone – politicians, students and teachers.

Hopefully, we can then drop the obsession with grade inflation and concentrate on the real issue – why are children from poorer backgrounds, and boys, still underachieving?