"When no one else can understand me...."
You're right, Welsh rugby, nobody can quite understand you.
Are we witnessing Welsh rugby's bowels explode in front of us?
Rugby union is a particularly rough sport. You get knocked around a bit, and that might leave lasting damage.

It puts

strain on the joints in a manner that could leave you arthritic at a younger than expected age. A violent jarring of the neck at the bottom of a ruck, or in a maul, could briefly interrupt the blood supply to the brain.

But there are plenty of ways you can do that without setting foot on the rugby pitch.

Eating too many pies or too much salt could interrupt the bloody supply to the brain too by forming clots. Wearing a blazer too tight around the ne

ck could too, I suppose.

As would being so violently constipated that you just

snuff it

Elvis style.

Over the last week or two, we've seen the body representing the four regional sides – Regional Rugby Wales – and the Welsh Rugby Union play out their own struggles with toxic megacolon in public.
There's also another joint body involved called Professional Rugby Game Board (PRGB).

It seems as if the blazer brigades in charge of Welsh rugby are determined to see the professional game blow itself out in as much a wholly undignified manner as The King.

I

t's all a

twisted

version of Game of Thrones, but involving a different kind of throne, and it appears as though everyone's full of....

Dun dun dun-dun-dun dun dun-dun-dun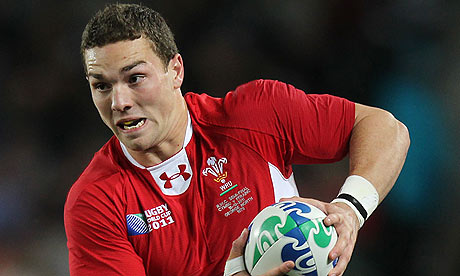 The King of the North(ampton)
George is unlikely to be the last Welsh star to leave.
(Pic : The Guardian)
The catalyst for this squabble is rather complicated, but stem around not only the loss of several senior Welsh players to English and French sides over the last few seasons but the financial arrangements between the WRU – as governing body – and the regional sides, who are independent of the WRU, but who pay the players' wages.

The regions are struggling financially, and are unhappy with the way the WRU have treated the PRGB since it was

founded last November

.
Last year, the WRU hired PriceWaterhouseCoopers to undertake a thorough audit of the financial situation in the regions. PWC didn't make any concrete recommendations, just come up with several options – including the WRU taking full control of professional rugby, central contracting of star players, maintaining the status quo or disbanding one or two of the four regions.

The number of Welsh star players leaving for other leagues is accelerating. George North is the latest to move – to Aviva Premiership side

Northampton from the Scarlets – with several other star names' contracts running out over the next year. France and England are likely to be their destinations. There's the chance that the bulk of the Welsh national side will end up playing outside of the Pro12, which would likely curb public interest in the regions even further.

The WRU – somewhat hamfistedly - accused the Scarlets of trying to cut their losses (as George North's contract was running down) by trying to sell him without his knowledge. Perhaps the

WRU also

said that to avoid one of their star players be

ing called a traitor or Judas.

He's under contract to the Scarlets, so like football teams they

'

re within their rights to do that, especially if they need the money.

The WRU have now also mooted central contracts. That would mean the WRU would pay star players' wages and decide where they would play, perhaps keeping as many as possible at the regions.
Public interest in some of the Welsh regions is already
low. Is the time right to consider central WRU contracts to retain
the stars of the Welsh national team?
(Pic : Huw Evans via BBC Wales)

The regions are

-

perhaps understandably

-

upset about this as it would completely undermine their independence, perhaps even their viability, as stand-alone businesses. However, central contracting is used successfully in Ireland, Scotland and other parts of the rugby world without too many problems. It's not that controversial.

With the regional sides eager to bolster their finances, and perhaps see off the threat of WRU encroachment into "th

ei

r territory", they've upped the stakes in the "taking a massive poo on everything" competition by proposing to join the Aviva Premiership, or a new Anglo-Welsh tournament, which is hoped would boost public interest in the regions. Like the LV

Cup then?

It doesn't appear they've consulted the Irish provinces, Scottish or Italian sides about this. The English don't appear to be taking the proposition seriously either. It's reminiscent of a few years back when Cardiff and Swansea thought they were too good for the Welsh league and played friendlies against English sides in a failed attempt to press for the creation of a British League.

It seems as though relations between the regions and the WRU are at an all time low – not that they've every really been very good anyway.

Winter is coming
The Heineken Cup might still be the premier club tournament in
Europe, but big money is pouring into the French and English games.
(Pic : Getty Images via BBC)
I've written on what I think some reforms could be made to Welsh rugby before – including creating a proper intermediate competition between regional and (amateur) club level - though I think that's wishful thinking now, even if Eddie Butler has mentioned something similar. I'm more of a football man anyway

, which I think says it all - sadly.
Like football has been affected by oligarch investors and big TV deals, the same thing is happening in European rugby. Several French teams are now owned by Middle Eastern benefactors with bottomless pockets, while Aviva Premiership TV rights went for £152million last year – working out at around £12.7million per English club over the next four years. The Pro 12 equivalent is likely to be much less than that, and is now firmly the "third league" of Europe, despite producing numerous Heineken Cup champions.

I think, ultimately, we're going to have to consider some sort of pan-European league in the medium term, which might be a way to ensure every top-level side, from all of the major northern hemisphere nations, can get something out of it.
This is as brilliant timing as you could expect in Wales, just weeks after unexpectedly retaining the Six Nations. The record at national level speaks for itself – 4 Six Nations championships and 3 grand slams in ten years. So the WRU must be doing something right, but the regions must be too in terms of player development, and I don't think they're getting as fair a hearing as they perhaps deserve.
There's room here for some grown-up negotiation, but the whole thing has descended into a comical farce, resembling a bickering married couple on the brink of a divorce, but both are t

o

o scared to pull the plug.


Glyn Beddau goes as far as to call for the First Minister to get involved, perhaps as

in a

mediator role. I don't think that's too far-fetched as a suggestion, but it's probably best for politics and sport to remain arms length when it comes to internal rows like this between businesses.

I think the regions still think they're superclubs and are more important than the WRU. The truth is the Irish provinces probably have more of a right to berths in the Aviva Premiership than the Welsh regions in terms of quality of rugby opposition they would provide the English clubs.

Meanwhile the WRU will be quite happy to let everything burn in their wake to keep the Millennium Stadium full six or seven times a year and pink sparkly cowboy hat traders in business.

T

hey give the impression of wanting the national team to be the only game in town. The men's national team, that is.

But wait! There's more....

In the last few weeks, the WRU have covered themselves with even more glory by, apparently, supporting a

split in the Women's Six Nations which will see the Welsh

women's national team play only two competetive games in the weaker side of the split.

N

ot only that, they're going to gut the wo

men's

development and youth teams too.

A

nd people wonder why girls don't take up sport in greater numbers

?
Their treatment of the women's national team, and women's national game, has been disgraceful and I don't think

this has

got enough coverage

. T

o her credit, Bethan Jenkins AM (

Pla

id

, South Wales West) has raised her own concerns,

w

hile there's an online campaign. It all seems to have happened rather suddenly, however, and the whole thing could be done and dusted in a

matter of weeks.
The women do it mostly for enjoyment

and pride at representing their country, not for big pay packets

,

to sell out stadiums or sell shirts. Welsh women's rugby has also produced one of our more prolific

female athletes in Non Evans.

They're going to be rewarded fo

r qualifying to the Women's World Cup in 2014

with second-tier status because the WRU couldn't be bothered to properly fund and support their game. It would've cost peanuts, really, considering the WRU's income streams.

Loosen the blazers chaps, your heads are starting to turn

blue

.

UPDATE : 12/04/2013 - The council responsible for the women's six nations has rejected a split in the competition. However, it remains to be see i

f the WRU are still 100% committed to the women's national sides. I don't think this affects their own plans there.