Is Wales turning its back on established religions?
What are we embracing instead?
In my second visit to the census data, it's time to look at another one of the more dramatic changes compared to 2001 – an increasingly secular Wales.

As a humanist scientist, who's put on record his support for a secular state, you would expect me to perhaps welcome that development. However, I think the picture's a little more complicated than that.

Believe it or not, I still think there's a place for religion - or at the very least some sort of personal worldview - which you can have even if you don't believe in God(s). It's just the warping of these beliefs or forcing them on non-believers that I object to.

What does the picture look like in Wales? And what might it mean for us as a nation?

Christianity

Wales is still, just about, a majority self-identifying Christian nation. However, the falls in the numbers identifying themselves as Christian are quite dramatic.

As you can see from this first map, all Welsh local authorities have a Christian majority (with the exception of Blaenau Gwent, which is just below 50%).
Christians as a % of the population per
local authority
(Click to enlarge)

The local authority average/mean Christian population was 72.6% in 2001. In the space of ten years that's fallen to 58.5%. The overall national figure is slightly worse at 57.6%. Flintshire has the highest percentage at 66.5%, with all north Wales local authorities – except Gwynedd – above 60%. The only obvious pattern is that rural Wales is significantly more Christian than urban south Wales.

That could be because they're "older" in demographic terms - and church attendances and adherence has traditionally been stronger amongst older generations. It could be that there's a stronger legacy of non-conformism in these parts of Wales.

How precisely has this changed?

The lowest fall in the Christian population compared to 2001 was a "mere" 12.3% in Monmouthshire. The average drop across all Welsh authorities was 14.1%, with 15%+ falls in seven local authorities – the sharpest in Bridgend at 17%.

These authorities already had some of the lowest percentage of Christians in general terms. Though it does appear, on the basis of both figures, that Christianity is holding up relatively well compared to the rest of Wales in the former county of Dyfed (Pembrokeshire, Ceredigion, Carmarthenshire).
Percentage change in the numbers of
Christians 2001-2011
(Click to enlarge)

I couldn't find any denominational breakdown of the figures, so it's hard to tell which particular church is losing the most members. Logically, you've got to presume it's the two big establishment churches – the Anglican

Church in Wales and Catholicism.

The picture is also complicated as Wales' non-conformist tradition means there are more active denominations than other parts of EnglandandWales, except perhaps Cornwall and Greater London. These denominations, especially more evangelical ones (Baptists, Pentecostals), tend to be spread out a bit more and have small, but very loyal groups of worshippers.

Islam

The number of Welsh Muslims has more than doubled, from 0.7% of the population in 2001 to 1.5% in 2011- around 46,000 people. That's still pretty insignificant in the grand scheme of things nationally.

There's a local authority average/mean of 1%, however this is distorted by Cardiff (6.8%), Swansea (2.3%) and Newport (4.7%). Cardiff's Muslim population has increased by around two-thirds compared to 2001 (3.7%).

In nearly all other Welsh local authorities the Muslim community is comfortably below 1%, with the (perhaps surprising) exception of Gwynedd (1.1%).

Judaism, Eastern religions and Other religions
The largest religion in Wales other than
Christianity or Islam is Hinduism.
(Pic : bhujmandir.org)
To be frank, other than Christianity and Islam the other religions are – in statistical terms – practically non-existent in Wales as a whole. But obviously they still have thousands of worshippers on the ground.
Jews – 0.1% of the population
Sikhs – 0.1%
Buddhists – 0.3%
Hindus – 0.3%
Other Religions – 0.4%

There have been concerns expressed about the terminal decline of Wales' Jewish population, however it appears to have held up compared to 2001, with only a small fall (~300) in the number of Welsh Jews, most of whom live in Cardiff.

However, Sikhism, Buddhism and Hinduism have all seen increases, but only Hinduism had more then 10,000 Welsh believers in 2011, with Buddhism close behind it. Once again, you're more likely to find worshippers of these faiths in the three main cities (Swansea, Cardiff, Newport). That could be down to students from India and China studying at Welsh universities, or that long-established communities have grown in that time, topped up with modest levels of immigration.

"Other Religions" have almost doubled. I'm not sure what would be included under this label, but presumable smaller religions like : Zoroastrianism (Cardiff's Iranian community), Shinto, Celtic Paganism/New Age Paganism, Wicca, Satanists and people putting down Jedis, Klingons, Football etc. If Welsh/Celtic Paganism made a comeback that would be....interesting. I don't think any of us need wake

in a cold sweat

over the Hounds of Annwn anytime soon though.

But, as all you heathens out there should know, there is only one true religion. Worship, brothers and sisters, at the altar of steel :



Irreligious & Religion not stated

The other dramatic change is the rise in the number of non-religious people. That doesn't mean exclusively that they're atheist, it could perhaps include the "not religious, but spiritual" people and agnostics. In fact, compared to 2001, the numbers not stating a religion (instead of non-religious) fell slightly.

Overall there was a combined average 13.2% rise in irreligious and non-stated per local authority. However, it's fair a

nd right

to point out that in 2011, no Welsh local authority had a non-religious majority. That's rapidly changing though
Percentage of the population irreligious or
religion not stated.
(Click to enlarge)

As you can see, the numbers of irreligious and non-stated religious are more heavily weighted towards the south Wales valleys than elsewhere.South Wales is now, arguably, amongst the least religious parts of the UK and in the next census, it will probably be Blaenau Gwent, Caerphilly or RCT that become the first Welsh local authorities to have a non-religious majority. That contrasts with north east Wales, where religions are holding up perhaps slightly better than the rest of the country.

In terms of how it's changed compared to 2001, the sharpest rises were again in the south of Wales. Bridgend, Caerphilly and Torfaen saw the joint-sharpest rises at 14.8%. Cardiff had the slowest rise at 11.6%, perhaps because there's a more diverse population there.
Percentage change in people describing
themselves as irreligious or religious not stated
2001-2011
(Click to enlarge)

It's hard to tell if these people have simply ditched the Christian label since 2001. It's also pretty hard to give any reasons precisely why there's been such a dramatic change.

I don't think scientific rationality has replaced faith to a great degree. I don't think it's because everyone has suddenly taken to dressing like vampires and listening to My Dying Bride either. I think it's probably that in some parts of Wales, a sense of faith tied to community has been replaced with a browbeaten fatalism, you could even say nihilism, as a result of the condition their communities have been in for decades.

If that were turned into a bottom-up secular communitarianism it could be a positive in the long run, but I think that's a big, big ask as it flies in the face of political and economic realities in Wales. I'd like to retain some hope that it could happen though.

What

could

this mean for Wales?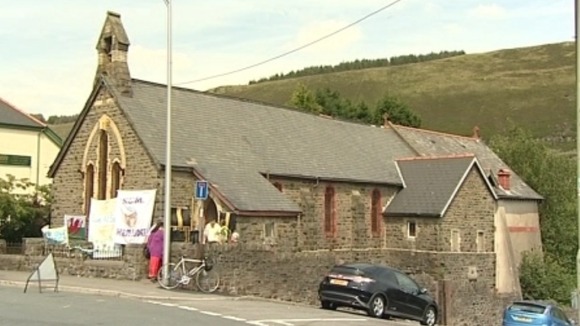 This is probably going to become an increasingly common
sight over the next 10-20 years unless Christian churches can
turn around the decline in attendances.
(Pic : ITV Wales)
Wales is still, for now, a "Christian country" – Although there have been colossal falls in the numbers of people identifying as Christians since 2001, they are still a healthy majority in Wales. Based on the trend, I don't think it's too outlandish to suggest that Wales will probably cease being a majority Christian country between the 2021 and 2031 censuses.
Churches need to take a look at themselves – I'm convinced the falls are terminal unless Christian churches adapt to life in the 21st century. That could come down to how worship is conducted. It looks as though the Church in Wales is starting to look at that, but will it be too little, too late? It might well come down to some core Christian beliefs no longer seeming relevant to younger generations in particular. Re-evaluating these beliefs and their interpretations might be a step too far for many denominations. I'm not sure if churches will be satisfied with a social role reduced to just conducting christenings, weddings and funerals.

Wales is rapidly secularising – This could have massive social and political implications. It could mean changes in policy such as school "daily acts of worship" in the medium-term. It could perhaps mean that right-wing parties in Wales are going to have to become more socially liberal. It probably means that pseudo-religious phrases like "family values" and "moral majority" are going to have very little political clout in Wales. It also means a materialistic evidence-based approach to some public policy issues – abortion and same sex marriage for example – might be increasingly more palatable to the Welsh as a whole.

Question marks over the future and relevance of faith schools - I don't think this is that big an issue. As long as there is demand for faith-based education, then it'll be provided somehow, just like Welsh medium education. If both parents and pupils alike are questioning

/

rejecting faiths in increasing

numbers

, then you have to wonder what role faith-based schools are going to

play in the future - perhaps their very existence in the long-term.
Considering Wales' history of non-conformism, it's (somewhat) understandable
that Wales is targeted by evangelical groups. However, attempts to
convert or create a "Bible Belt" aren't working and probably never will work.
(Pic : Yahoo News)

Attempts by Christian evangelicals to create a "Bible Belt" in Wales are doomed – We've seen a lot of groups come to Wales over the last decade, bringing some really quite hardcore "fire and brimstone" views with them under the guise of community work or missionary work. They've been targeting parts of west Wales in particular. Some even end up with public money, perhaps an excuse by local authorities to offload responsibilities. The hard evidence says this isn't working and they're not really converting many new people, perhaps just making the inevitable decline a little bit slower by being quick to adopt modern ways of proselytising.

Wales is still relatively monocultural – With the exceptions of Cardiff, Swansea and Newport, Wales remains fairly homogeneous compared to vast chunks of England. I imagine this will be reflected in the ethnicity figures as well, which will be my next port of call.