H

at tip to Glyn at National Left.

Welsh Government review of SME finance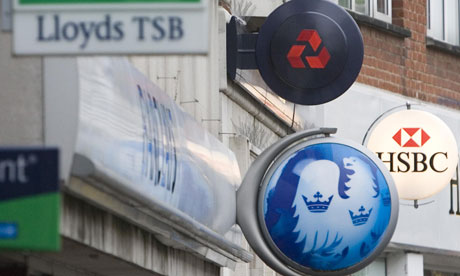 Are the big high street banks letting down Welsh businesses?
Business Minister Edwina Hart has launched a review to find out.
(Pic : The Guardian)

Business Minister Edwina Hart (

Lab

, Gower) recently announced a review funding for small and medium enterprises (SMEs). The review is to be led by Prof. Dylan Jones-Evans, and investigate the difficulties and pitfalls smaller companies in Wales face when trying to obtain finance.

One of the big complaints since the financial crisis started is that SMEs are being turned down for funding, or being made to jump through hoops by the big London commercial banks. They suffer especially if their margins are particularly tight, they struggle to move stock or they suddenly face unexpected up-front costs or bills.

A review is welcome, obviously. Though you can certainly argue, as A Change of Personnel has rather succinctly, that it's taken a sweet age to come this far. I'm not sure if a report or review spelling out what we already know, on behalf of the government of the economically weakest part of the UK, is going to make a blind bit of difference.

I'm

pleased

that Edwina Hart has chosen Prof. Jones-Evans to lead this review, as at least he knows what he's talking about. I think Edwina deserves some praise for this decision, as it shows she's willing to compromise and get in someone "from the outside" to look at the big issues instead of taking a more tribal "keep it in the family" rou

te

. I'm looking forward to seeing, and covering, what this review comes up with.

But since the announcement, two of the opposition parties have come up with two different possible solutions to the p

roblem.



Plaid's "Bank of Wales" & Welsh Tories "Invest Wales"
Germany's network of regional public banks (Landesbanken)
offer commercial business finance to companies within that region.
Plaid's mooted "Bank of Wales" may be similar.
(Pic : handelsblatt.com)
Plaid's Economic Policy Commission are considering an investigation into the creation of a government-backed "Bank of Wales" to address the issue highlighted further up, which is described – perhaps rightly – as a "market failure" for Welsh SMEs.

One of Wales' big economic weaknesses, as I've pointed out in a little detail before, is the lack of an indigenous commercial banking sector. There was once a regional "Bank of Wales" but it merged fully with RBS several years ago. I wonder how the Welsh economy would've panned out over the last 20 years or so if, instead of being picked off, it remained a separate subsidiary of RBS like Ulster Bank.
Anyway, I digress. Adam Price and Alun Ffred Jones AM (

Plaid

, Arfon) moot using Finance Wales cash – up to £20million – to get the new Bank of Wales off the ground. Finance Wales already acts as the Welsh Government's investment arm, so this new function shouldn't be that hard to fit in. At the fundamental level all it would be, at heart, is some sort of spin-off.
But obviously having a "bank" would give it greater flexibility in how it might operate, and also allow the new bank to circumvent EU regulations on areas such as state aid. Unfortunately, the Welsh Government seem very reluctant to seek out these "loop holes" for reasons I can't fathom. Plaid aren't, and they took a similar path with their proposals on procurement last year.
I don't particularly like the idea of a "state-owned" bank, as that assumes that as well as the successes the state would also be burdened with the cost of any failures too. But it's probably "safer".
However, once again, this isn't some radical new idea. Wales used to have a network of local banks aimed at drovers who moved livestock to sell in larger markets. We even had hyper-local banknotes (more on that at Welsh not British). As financial services gradually centralised in, and were standardised from, London, most of these banks became defunct.
Germany has a unique network of state-owned, federal state-based (Länder)
banks called Landesbanken. They offer a mix of commercial and private banking services and employ tens of thousands of people across Germany. They're primarily a source of credit and bonds for both public sector and private companies within their respective states.

So the "big bank money" tends to be cycled within the state. That's probably one reason why economic disparities between regions aren't as pronounced within parts of the former West Germany as they are in a unitary state like the UK or France.

Unless you're using a local Credit Union or one of the Welsh building societies, Welsh money goes to London and stays there. Welsh SMEs then struggle to get money back because of "market failures", or the money comes back to us in other forms via general taxation (when banks pay their taxes). Then, when there's a chance that a financial institution might base itself in Wales....oh, I don't know....the Green Investment Bank for example....we get this approach from the Welsh Government.

£20million isn't a massive sum of money, but it's a start. As Glyn Beddau pointed out, it's worth taking those existing Credit Unions into consideration too – and in fairness, there's cross-party support of them. I wouldn't mind seeing Credit Unions scale up and begin to offer some personal banking services such as mortgages or underwrite shared-equity schemes as part of housing co-operatives, as pointed out in The Collective Entrepreneur. Maybe there's a need to revisit a regional stock exchange too.
Yesterday, the Welsh Conservatives made their own announcement of a business bank (of sorts) – Invest Wales. The difference between the two ideas is that it appears the Conservatives (in shorthand) want to "franchise out" Finance Wales and use existing banks and post offices to funnel funds to SMEs on a local or sub-regional basis, combined with extra commercial business support.
Both ideas overlap. Both would probably have similar outcomes.

However, I think Plaid's mooted plan would be more secure, more publicly accountable (as a directly-financed state-backed enterprise than a "franchised" one) and perhaps easier to run and keep tabs on in the Assembly. But I would say that, wouldn't I? So I implore you to judge for yourselves.
I don't see how getting the banks that are currently not supporting Welsh SMEs on board is supposed to improve matters.

The Conservative plan also seems on the surface to slightly complicated and, dare I say it, slightly bureaucratic.
Which is quite incredible thinking about it.

However, they clearly have the more detailed plans for now. I'm not knocking it though, I think the extra business support and sub-regional approach makes some sense, especially if we want to close the gap between West Wales & The Valleys and East Wales as much as between Wales and the rest of the UK.

Both ideas are worthy of consideration, but I think Plaid probably have the edge, and the relationship with the Welsh Government, to actually get something off the ground – probably dependant on the outcome of Edwina Hart's review.