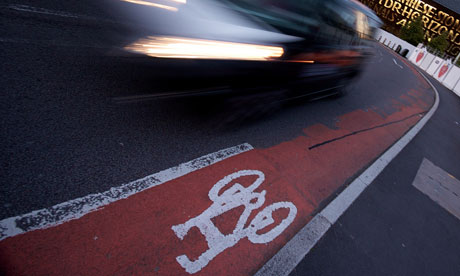 Although there's been successes in promoting leisure cycling,
what can be done to make cycling a mainstream form of transport in Wales?
(Pic : The Guardian)
Cycling is a cheap, efficient and enjoyable way to get around. Wales also has a fairly underplayed cycling heritage, producing World-class cyclists such as Nicole Cooke and Geraint Thomas. We also possess some truly fantastic mountain bike facilities, such as those in the Afan Valley, and more than enough opportunities for leisure cycling.

However, as a form of transport - not as a leisure activity - cycling isn't mainstream in Wales. Public transport is often the focus for attempts at "modal shift" from cars compared to cycling or walking. This has a wider impact on society beyond commuting.

There are several places in Wales

-

especially in the south

-

that are being closely monitored for air pollution. This BBC report from 2010 highlights fears that most of this is caused by car traffic. Air pollution is a major aggravator of respiratory illnesses. Could a wider shift to cycling improve all-round heath as well as reduce pollution?

It's a stereotype of sorts, but the Netherlands is often seen as the torch bearer for cycling society. In 2010, cycling accounted for 27% of all journeys, and the cycling rate was as as high as 59% within some urban areas like Groningen.

It wasn't always like this, as you'll see in this Youtube video that covers the history of cycling there. It took major social change and protest to see the kind of investment and infrastructure that sustained cycling's popularity in the Netherlands through the age of the car.

What could Wales do to get people out of cars and on to bikes?

Strategy

The Welsh Government is currently consulting on an Active Travel Bill, which would place a statutory duty on local authorities to maintain cycle and pedestrian paths. I'll cover that in more detail when the Bill is formally introduced. The Safe Routes to School initiative has seen significant investment in upgraded cycling and pedestrian facilities across Wales. In addition to this the Welsh Government has funded personal travel plans to promote new ways of getting around.

To date, much of the focus in Wales has been on developing interconnected long-distance cycle paths, usually but not always following disused railway lines. Some of these projects, like those in the Garw and Ogwr Valleys, have been community-led initiatives. Sustrans also have plans for developing something similar in the Ely Valley. These long-distance routes are fine, but I'm not sure if it's the right priority.

Cardiff was picked as a "Sustainable Travel City" by the previous Welsh Government. They have developed their own cycling strategy called "Enfys" (English : "Rainbow"). Being a relatively flat city, you would think that cycling would be a popular mode of transport – but it isn't really. Although the Enfys report states that car ownership levels are lower than the Welsh average, just 5.8% of people commuted by cycle in 2008. That's still way higher than the Welsh average (1.8%) which is the joint lowest level in the UK. Only around 1.7% of school pupils in Cardiff cycle to school.

It's hoped the development of "core routes" in Cardiff, in collaboration with Sustrans, will link schools, "major trip attractors" and residential parts of the city together. One of the things that stood out in the Cardiff plan, is how difficult many respondents to the survey felt cycling to the city centre was.

I imagine this is a similar situation in every major urban area in Wales and it's a big problem.

Persuasion

Cycling is arguably one of the most efficient form of transport for short journeys – for instance shopping, school or college, in many cases commuting too. In 2010, 71% of the working population of Wales worked in their home local authority, with the average commute being around 22 minutes – amongst the shortest commuting times in the UK. Travelling by cycle needs to be at least as quick and as hassle-free as this to really take off.

There are several things that stand in the way:

Climate – It rains a lot. People don't like to get wet. It's bad enough if you're on foot, but it's even worse if you're in the road getting splashed (or expecting to get splashed) by buses and cars. Having said that, the Netherlands isn't exactly a dry place either. Is this too lazy a suggestion?

Topography – You would think that the valley floors would be ideal for cycling, and indeed that's where most of the cycle paths are. However the streets are usually clinging to the side of the valleys and in some cases just too hard to ride a push bike up.

Street & Urban Design – The Active Travel Bill will likely address this, and there are several documents and strategies out there on street design. Unfortunately many of our older towns have archaic street layouts, with poor visibility for cyclists, pedestrians and motorised traffic.

Convenience – Sitting in the comfort of a seat, pushing a few pedals, encased in a tonne of metal is far easier than pumping your legs trying to get up a hill. We also don't see many "utility cycles" capable of carrying baggage or groceries as we might on the European mainland.
The Times launched a campaign for safer cycling after
journalist Mary Bowers was left in a coma following an accident.
In Wales, cycling road casualties remain erratic.
(Pic : The Times)


Safety - Statistics for Quarter 3 2011 show that, while the overall number of police recorded road casualties in Wales continues to fall year on year - in fact Wales has some of the safest roads in Europe – the numbers for cyclist casualties are erratic, showing a mixture of falls and rises. Up to Quarter 3 2011, there were just over 400 cycling casualties, and the overall casualty numbers for 2011 are on course to be higher than 2010.



What are the practical steps, learning from Netherlands and elsewhere, that can be taken to make cycling more attractive?


Here are some of my own ideas.

Safety
Helmets should be mandatory for anyone cycling on a road without cycle facilities, with fines for those not wearing them. Segregated cycle lanes and cycle-friendly streets wouldn't be included.

Cycle paths should have minimum standards for lighting

-

perhaps with the use of solar studs.

Cycle paths should ideally be overlooked by property, and underpasses should be avoided where possible.

Where cycle paths cross a junction, the cycle path should be raised to the level of the pavement, with cyclists and pedestrians given right of way. There should be as clear a line of sight as possible for drivers.

Any road shared with cyclists on the same surface should have a 20mph limit. Exceptions could include major thoroughfares (i.e. Newport Road in Cardiff) until segregated facilities are constructed.
Cyclists taken seriously as road traffic
Cycle paths maintained to a minimum national standard, perhaps with a sliding scale "grading system". For example - a fully paved, Dutch-style segregated track would be grade A while a mud track through overgrown vegetation would be grade E.
Legal (and insurance) protection for the "weaker" party (pedestrians and cyclists) in the event of an accident. This is used in the Netherlands.

Mandatory cycling proficiency tests in primary schools (based on the Dutch "Verkeersexaman") as an essential part of road safety teaching.

A hypothecated tax on cycles and cycling equipment (safety equipment exempted) to pay for new and improved cycle infrastructure. Other taxes/levies could include parking spaces, congestion charges and residential parking permits.
Incentives
Cycling over these short distances should be quicker, or as quick, as travelling by car. That means cycling routes should be planned and developed to be as direct as possible.

Cycle loan schemes, cycle "scrappage schemes", or cycle vouchers for schools, to contribute towards cycling equipment. Perhaps this could be part-paid for through environmental taxes.
Moving the boundary for free school bus travel from 2 miles to 3 miles - or even further where there are "good" cycling facilities available. Those living between 1 mile and the outer boundary would be eligible for the cycle vouchers mentioned above.

Local and national government contributing significantly towards the cost of cycle parking facilities, and other facilities such as showers, at workplaces, schools, colleges and universities if they successfully increase use of public transport or cycling amongst students or workforce.

All this needs, above all else:

Infrastructure

I don't think Wales will ever be in the same position as the Netherlands, Denmark or other parts of Europe with regard cycling infrastructure, but there's no reason to stop the shift to public and "active" transport. There's no reason why

-

within major urban areas

-

we couldn't push for a 15-20% cycling rate within 30 years. That would require education, persuasion and massive investment in cycling and cycle-friendly infrastructure.

Using a part of the world I know well – Bridgend – here's an example of how I could see an urban network of cycle/pedestrian panning out. Not everything on this map needs to be done, but it does underline the potential.
A possible walking/cycling network for Bridgend
(Click to enlarge)
As you can see, I've linked the completed cycle routes together (ideally without interruption). I've also linked major trip attractors to one another : schools, the hospital, transport interchanges, industrial estates and suburban residential areas.

Bridgend town centre streets could become "shared surface", with a low speed limit. That could

reverse some of the difficulties disabled people and the elderly have experienced being "dropped off" in the town centre, and formally allow cyclists to use the pedestrianised streets (if they didn't already), with cycling parking dotted around the town centre.

Ideally, a clearly signposted, largely segregated network, with reduced speed limits, like this would encourage parents in the suburban parts of the town to let their children walk or cycle to school without any real concern.

I've separated cycling infrastructure into two broad categories:
Cycle lanes on the road surface could be
considered "cycle friendly" infrastructure if well maintained.
(Pic : Wikipedia)
1. Cycle-friendly streets
"Shared surface" street layouts

Cycle lanes marked onto existing road surfaces

Authorised use of bus lanes by cyclists

Speed humps

20mph (or less) speed limits

Advanced stop lines at traffic lights
The Netherlands is famous for its planned,
segregated cycling facilities.
(Pic : aviewfromthecyclepath.com)






2. Segregated cycling facilities
Dedicated cycle paths, or cycle/pedestrian shared paths

Dedicated cyclist signage and road signals (where appropriate)

Priority for cyclists at junctions and roundabouts

Segregated crossing facilities – underpasses, bridges or toucan & puffin crossings

Consensual crossings with cyclist/pedestrian rights of way (i.e zebra crossings)

Secure and monitored (formally & informally) bicycle parking facilities

Easy storage of cycles on public transport

Wales and the UK seem to opt more for "cycle friendly" infrastructure, but where there's the option for pre-planning for cyclists – for example 1960s and 1970s new towns or modern housing estates - segregated cycling facilities are becoming a more common feature. This is probably why nations like the Netherlands have such a good cycling infrastructure, as the "new town" was a key driver of post-war economic growth there.

What does independence have to do with any of this?

You might wonder - why I'm including this post in the Independence Index? That's a perfectly legitimate question.

There are several state functions that could be modified or reformed to give cycling a boost:
Road markings & signs

Traffic & vehicle regulations

Vehicle taxes/DVLA functions

The Highway Code

Rights of way (including definitions)
Creating new forms of cycle/pedestrian crossing, new signs
and signalsand new driving regulations would (most likely)
require independence.
(Pic : Fietsberaad.nl)

Something as simple as creating a new form of "consensual crossing" would be a major step forward. Like it or not, we're locked into a "British" road system where many matters are highly regulated from the centre. Powers could come from federalism or devo-max, but independence would be the ultimate way for a significant divergance from the "British" road system - and one modelled on a benchmark like the Netherlands - would be possible.

Cycling needs a culture shift – not just new laws - although that helps. Britain is a car-centric country and our addiction to four wheels is a much a statement of an Anglo-American "rugged individualism" as much as it is the most popular (and often best) way to get around.

A brand new nation could be the kind of shock needed to create a new ethos, not just on how we travel but a whole host of other things too. It's all part of the independence vision.