The Welsh Government have been criticised for its civil
emergency arrangements by the Wales Audit Office. Now, the
Assembly's committees have had their say.
(Pic : BBC)
Earlier this week, the Assembly's Public Accounts Committee published its report into civil emergency arrangements in Wales, prompted by a critical Wales Audit Office report into some aspects of those arrangements, and partly in the wake of serious flooding in Denbighshire last year.

The report (pdf) made 14 recommendations; broadly speaking :
The Welsh Government should consider seeking new legislative and statutory powers in relation to civil emergencies.

Better training, self-assessment and monitoring of performances of emergency responders.

Improve representation of voluntary bodies on emergency planning committees.
What is a "civil emergency"?

An "emergency" is defined in the Civil Contingencies Act 2004 as any event that threatens, damages or endangers property, the environment or life. That could include serious flooding, major accidents (like plane and train crashes) and even up to and including war and terrorism.

On the ground, emergencies are dealt with by Category One responders (the emergency services, local authorities, health boards and environmental agencies) and Category Two responders (utilities, transport and communications companies).

The government's role - Welsh and UK - is to oversee operations, helping to manage responses or provide resources, like the military.

The difference between a "civil" and a "national" emergency, is the latter usually involves a formal state of emergency being declared by the UK Government that suspends certain state functions. It's only been used once, AFAIK, and that was during the 1970s fuel crisis. We probably came close to it during the 2000 fuel protests too.

What prompted the inquiry?

As said at the start, this committee inquiry was prompted by a critical Wales Audit Office (WAO) report into this matter from December 2012.

Executive Powers & Devolution

Civil contingencies are a non-devolved matter. However, the Welsh Government would generally be expected to provide leadership for major emergencies in Wales, co-ordinating their response – when appropriate – with the UK Government as part of an agreement between the two governments.

The executive powers are – surprise, surprise – muddied in relation to Wales, while the Scottish Executive have some powers for themselves in this area, perhaps because policing and criminal justice are devolved (so they would be better placed to deal with public disorder issues, for instance).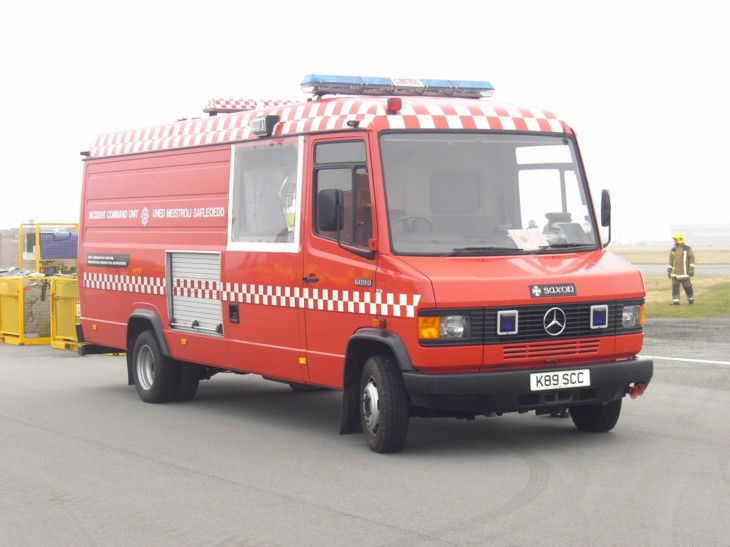 Category One responders - like the fire service - currently
have to deal with awkward command arrangements during
a civil emergency in Wales.
(Pic : Andrew Wright via fire-engine-photos.com)
This was just one major criticism picked up by the WAO, as it was unclear who was in charge, with the Welsh Government being able to support Category One responders, whilst not being responsible for managing or monitoring them.

On the ground, this meant that the different organisations would, "look to a range of government bodies for leadership" making the management of emergency responses unnecessarily complicated.

Of the many bodies giving evidence to the inquiry, it was generally expected that the Welsh Government should lead emergency responses within Wales.
The chair of the Wales Resilience Partnership, Sup.Int Claire Parmenter, said it would clear up matters.

However, the WLGA said that they would oppose devolution of further executive powers due to increased administrative demands.

Implementation of the Civil Contingencies Act

The Civil Contingencies Act 2004 was brought in, mostly, because of the threat from terrorism in the wake of the 9/11 attacks. It updated emergency planning legislation, clearly set out who does what, and even led to a somewhat ill-fated public information campaign.
The Civil Contingencies Act 2004 updated older legislation
to meet modern emergency planning requirements
and new threats.
(Pic : West Yorkshire Fire Service)
You could say it contributed to public paranoia. In the main though, the powers have been used in relation to serious environmental emergencies like flooding, and were very effective in the response to the July 7th 2005 bombings in London. They clearly work.

The WAO found major failings in how Category One responders were implementing their Civil Contingencies Act duties, in particular inconsistent approaches by different bodies and a lack of monitoring of those obligations.

This matters because if emergency planning isn't done properly, when these situations do arise, it can lead to confusion if people don't know precisely who's giving the orders and on what basis, possibly putting lives or property in danger.

Regional Emergency Planning, Budgets & Training

The Welsh Government operate an emergency management fund to compensate local authorities for costs relating to emergency responses. Some emergencies exhaust these budgets rather quickly.

For example, the total cost of the 2011 Fforestfach tyre fire in Swansea was said to be £1.5million, with a grant of £1million from the Welsh Government, leaving a net cost to Swansea Council of £500k. Under the circumstances that would've been a big chunk of their emergency budget I would imagine. It's recommended that both local authorities and Welsh Government take relative exposure to certain risks into account when deciding their emergency budgets.

Emergency planning functions are said to be spread too thinly across too many organisations – a regular recurring theme in Welsh public policy – and should be restructured to a regional level.

*AWOOOOGA* I'll just leave this here *AWOOOOGA*.

However, significant barriers would need to be overcome to enable that, and are still being investigated by the Welsh Government.

Emergency training exercises take place at UK level twice a year. There are also national-level training exercises in Wales, with few concerns about that training. In spite of that, it's said that Welsh responders aren't "taking full responsibility for assessing their performance" as set out by the UK Government. Could lazy assessment lead to lazy responses?

Social Media & Emergencies

Social media is said to have both positive and negative impacts. The obvious positives are that information can be sent out quickly by authorities. The negatives being that sometimes that information can be faulty, leading to rumours and mis-information being spread quickly too.

During the Gleision mine accident, it's said that information was sometimes spread faster than the emergency services dealt with issues on the ground – not exactly helpful.

The UK Government want to trial mobile alerts, which can be sent to a specific geographical area.

In north Wales, authorities are trying to map vulnerable people (i.e. elderly living on flood plains) so they know precisely who would need to be moved or sheltered during an emergency. I've mentioned something similar on flooding back in January, so I'm glad they've been thinking along the same lines.

Dull, but necessary

Yeah, not one of my most exciting blogs in a long list of not very exciting blogs, but
it's rare I can blog about defence issues in Wales without referring to independence.



One of the first duties of any government – devolved or not – is to protect the population. That's why this inquiry and the WAO report were important.

Emergency planning is something that generally goes on behind the scenes, and we don't really notice it until it's needed. We've had several major incidents recently that have caused serious disruption or loss of life in Wales, including – as mentioned - serious flooding, M4 accidents, the Gleision mine accident and the measles epidemic.

Having skimmed through the report, I doubt there were major failings that could've put lives at risk, but obviously having a clearer understanding of who's in charge of what during an emergency would help enormously.

In terms of the civil response to emergencies themselves, like the report suggests, new ways of warning the public are essential if we want to prevent people putting themselves in harm's way in the first place. That also means all of us using things like Twitter responsibly to prevent rumours getting out of control, as well as treating government advice during emergencies with the utmost seriousness.