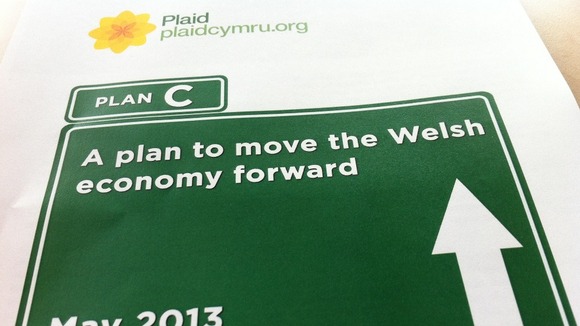 Leanne Wood recently launched Plaid Cymru's
alternative - but familiar sounding - plan for the Welsh economy.
(Pic : ITV Wales)
During their 2012 autumn conference, Plaid Cymru discussed plans for procurement reform, coinciding with the release of a major review. The party dubbed it "Plan C", but there was nothing concrete put on the table.

Earlier this week, Plaid launched a full Plan C document (pdf) outlining their vision in a bit more detail. It's a seven-point plan, containing measures they believe would improve the Welsh economy.

The current economic picture could be said to be mixed. Unemployment's falling, but economic growth overall appears stagnant. Also, the expansion of things like apprenticeships will have made a positive impact there, but that's likely to be short to medium-term, not long-term

-

especially if all these new apprentices have no full-time jobs waiting for them at the end of training.

What are Plaid proposing?

1. Full implementation of the Silk Commission's (Part I) recommendations. You probably know what I think about those recommendations. Plaid want to grow the tax base "further and faster" by promoting good economic policies and placing more people in "higher paid work". So they want generate greater tax receipts in the medium to long term, without the need to raise taxes themselves. I think that translates as "closing Offa's Gap".

2. A "buy local" campaign and procurement legislation. This was

all

"Plan C" consisted of last year, with the aim of creating 46,000 jobs though improving the amount of procurement contracts awarded to Welsh companies. Currently, Welsh companies are awarded with 52% of procurement, Plaid want to aim for 75% (within EU rules) through a mix of measures including improving procurement skills in the Welsh public sector and placing public interest clauses into procurement contracts. If the desired job

creation numbers

materialised

, it could cut Welsh unemployment by a third.

3. "The Bank of Wales" and Business Rate Relief. I've covered this in detail before - and the Welsh Conservative's own plans there. The aim is to get more funds to small and medium businesses (SMEs) by establishing a regional bank run along the model of the German Landesbanken. They want to extend business rate relief to businesses with a ratable value of up to £15,000. They also want to split the business rate multiplier – with higher multipliers for large, out-of-town stores and reduced ones for town centre stores - to boost the "traditional high street."

4. A "Green New Deal". Some of this covers measures outlined in The Greenprint, others are perhaps new. The focus is on improved energy efficiency and expan

ding

renewable energy. There's no specific mention of what renewable sector in particular, more a "mix" - which is sensible. That's similar

to

what I said recently about developing new green technolog

ies

ourselves so we can steal a march internationally.

5. Improved infrastructure and special investment models. "Build4Wales" makes a return – an arms-length not-for-profit company that would borrow capital "off the books" for the public benefit. Plaid also supports the creation of a "Valleys Metro" and improved broadband.

6. Expanding apprenticeships and tackling under-employment. There's particular concerns about youth unemployment – the highest of the Home Nations at 23.6%. Under-employment was recently pointed out as a concern by Alun Ffred Jones AM (

Plaid

, Arfon) and issues surrounding research council

funds

by Hywel Williams MP. We're not going to get anywhere with low-paid, low-value work. Plaid would also like to set up a National Science Academy to "spur invention and innovation." There were also proposals for improved child care as one way to encourage more women back into the workplace, as they

'

re another group hit hard by the

recession and the

UK Government response to it.

7. Promotion of co-operative and mutual enterprise. The Collective Entrepreneur makes an appearance. They would like to see key public services provided along this model – water already is. We also already knew Plaid support the railways switching to a not-for-dividend company when the franchise is up for renewal in 2018. Expanding and upscal

ing

the credit union network in Wales is another proposal here and one I broa

dly

agree with.

Plan C...een it before?

This isn't a criticism, really. Plan C, in the main, is all of Plaid's recent announcements on the economy neatly packaged into a single, easily understandable document. There's nothing we haven't already heard about, but I say that as someone who follows things like this more closely than most people.

I wish Plaid put a paper like this out when they first announced Plan C, as I think it would've made a bigger impact. At the time I said Plaid were "ahead of the curve", but it looks like the Welsh Government have finally caught up.

The Welsh Government announced their own proposals for a special investment vehicle (like Build4Wales) to fund A465 duelling, and they'll look at procurement opportunities to boost the economy too. Plaid also got an expansion of apprenticeships as part of this year's budget deal. So parts of Plan C are already becoming a reality.

I think

Plan C's

great strength is its simplicity. Barring those areas reliant on further devolution of powers, they're measures that are practical, largely common sense, realistic and can be done now – not always characteristics you would've associated with Plaid.

As you might expect, I'll have to pick out problems. Firstly,

point

6. Plan C is good at pointing out issues with regard under-employment, and providing commentary on issues affecting the young and women, but short of ideas compared to other parts of the report. This area's probably the report

's only significant

weakness.

Secondly, the issue of co-operatives. I'm a convert, and as Adam Price recently said, "We're all mutualists now." The trouble is – and Plan C points this out, to be fair – is co-ops still lack credibility as a mainstream business model. Despite all this support, the Welsh co-operative sector's still only

worth

around £1billion a year.

We're light years behind the Basques on this, and we desperately need another big Welsh service/company to go the Glas Cymru route.
It should've been Peacocks or could be one of the housing associations. It'll probably end up being the railways, but I wouldn't get our hopes up.

I suspect Westminster will stick their noses into it because of the complicated way

powers over railways are

arranged in Wales

. O

r, they might

try to

prevent any new not-for-dividend company taking it over by citing competition/tendering rules, meaning commercial compan

ies

would end up hav

ing the

right to bid too. If a commercial "value for money" bid lost out to a Welsh not-for-dividend, it'll likely end up in the cou

rts.



But yeah overall, Leanne still means business.