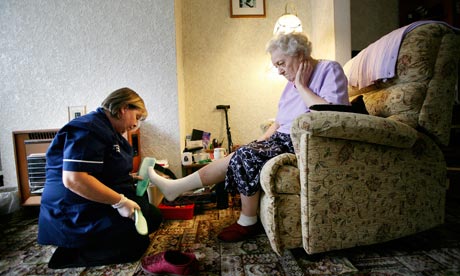 What are the possible consequences of an ageing population?
(Pic : The Guardian)
Firstly, I forgot to include the data I used yesterday (2001, 2011).

Following on from yesterday's post, I'm going to look at some of the possible implications of the demographic/age changes in more detail. But to summarise – for those of you who can't be bothered to sift through the last post:
Wales' mean age was 40.6, median 41 – second highest of the regions of EnglandandWales.

18.3% of Wales' population in 2011 was aged 65+ - a rise of 0.9% on 2001 – with much higher levels in rural central and northern Wales.

45.2% of W

elsh residents

were aged between 30-64 – a fall of 2.3% on 2001.

The percentage of school age children fell by 3.4% nationally, but there was no change with regard pre-school children (0-4 y.o.).

The percentage of young adults (18-29) rose by 1.8% on 2001, seeing bigger rises in urban areas of Wales, with the notable exception of Ceredigion.
Impact on the Welsh language

Back in January, I posted my musings on the fall in Welsh speakers. I made several guesses as to why that happened.

Firstly, the mortality and migration issues. Y Fro – Anglesey aside - isn't as old as I was expecting. However, all 4

Y Fro

counties do have above-average levels of pensioners, and they've also seen some of the biggest increases in pensionable populations since 2001 – again, in particular Anglesey.

When you cross-reference this with the falls in Welsh speakers, I think this will have had an impact in Ceredigion and possibl

y

Carmarthenshire, but less so in Anglesey or Gwynedd. The latter

two

didn't see as sharp a drop in Welsh-speakers as the southern half of Y Fro. So I think mortality at least – an older population, including a fair chunk of Welsh speakers, dying naturally - is just one small bit player in a complicated set of circumstances.

It's hard to tell whether "elderly migration" had a similar impact. As far I can tell, the figures aren't broken down by age. I suspect it will have, especially if those migrating aren't Welsh-speakers. But as I pointed out then, significant numbers of migrants to Y Fro are from other Welsh local authorities – especially into Ceredigion – while English migration isn't as pronounced compared to European immigration or those from further afield.

When you look at the rise in "young adults" in Ceredigion alone, I was probably right to include the expansion of university education – and an increased in-migration of non Welsh-speaking 18-21 year olds – as a possible factor.
There's clearly a shift towards the young in terms of Welsh speakers overall. But
will falls in numbers of school age children in Y Fro cause problems when
planning Welsh-medium school places in the future? As well as impact
the number of Welsh speaker nationally.
(Pic : BBC Wales)

One thing I did say, was that there was cause to be upbeat because of a clear, positive "demographic shift" towards the young in terms of numbers and percentage of Welsh-speakers. Blog Menai has also pointed out that amongst the over-20s, Welsh speakers are on average younger than non-Welsh speakers.

However,

viewing this in itself as

a possible saviour of the Welsh language

might be a little over-optimistic.

Ceredigion already had one of the lowest percentages of school age children, and it's quite likely that in 2021, school age children might fall into a single figure percentage of the Ceredigion

population

. Gwynedd and Anglesey also have fairly "low" percentages of school-age children resident. Although there's a definite demographic "bulge", with Welsh-speakers overall becoming younger, in terms of strength in numbers it's unlikely to make that much of a difference.

There'll be more Welsh-speaking young people (under 30s) in 20-30 years time for sure – perhaps 30%+ of the population even outside

Y Fro

.

But they're

still going to

be

outnumbered by pensioners in terms of sheer numbers

. Q

uite a few of them are likely to leave and bring up

c

hildren elsewhere. So as much as shoring up the heartland is important, it's equally important to meet demand for Welsh

-

medium education elsewhere in Wales too.

So my guess is the physical number of Welsh speakers will go up nationally. But if that doesn't exceed the pace of general population growth - topped

up by non-Welsh speaking elderly migrants -

then Welsh speakers as a percentage of the population will stagnate or continue

a slow

decline

(

inside and outside Y Fro

)

or struggle to br

each 20% of the Welsh population

.

But it's worth pointing out that demographic projections aren't an exact science and tend to "wobble" quite often.

Impact on the economy

The main factor here is the "productive population"

-

the numbers of working age people with jobs, generating wealth

measured as

gross value added (GVA).

GVA is divided amongst the total population to get headline GVA per capita figures. That means pensioners, temporary and long-term unemployed or disabled and school age children are included - not just the "working" working age population.

GVA is rural areas is low anyway. That's perhaps because sectors like agriculture and tourism don't generate as much for the economy as a whole compared to financial services or manufacturing - the latter two generally based in urban areas and city regions.

In parts of Wales with higher numbers of disabled people, pensioners

,

or higher numbers of those in full-time study too (in the case of Gwynedd and Ceredigion) - the "productive population" is going to be significantly lower than somewhere like Cardiff. Therefore, an already weak GVA is divided by more (statistically) "unproductive" heads, producing weaker GVA per capita figures that it perhaps otherwise should be.

So there's probably a warning that, although GVA is useful in measuring economic strength, it isn't the be all and end all of an economic story on the ground.

Impact on key public services

The main issue here as I see it is the dependency ratio. Dependency ratios measure the relative demographic "burden" placed on an area's working age population by those outside the labour market (children and pensioners). You can have separate child dependency ratios and old dependency ratios too.

The higher the dependency ratio, the more a government has to spend or provide things like education, pensions and social services for children and the elderly. It's fair to point out though that some pensioners might still be in the labour market, and the retirement age is rising to 66 by 2020.

It's calculated to international standards by:
The number of full-time school children (defined as 0-15 by international measures) and pensioners (65+) added together

Divided by the working age population (15-64)

Times by 100
Dependency ratios nationally and in each local authority in 2011
(Click to enlarge)
In Wales, the dependency ratio is at 54.6, compared to 51 for the UK as a whole. That means Wales bares a slightly higher "burden" of dependents than the rest of the UK. We probably knew that anyway.

However, at individual local authority level, some of the figures are jaw-dropping. Five local authorities have a dependency ratio above 60.

Old age dependency ratios are perhaps more important here, as they're usually out of the workforce permanently and place a greater relative burden on health and personal social services, whilst school-age children will eventually join the workforce.

Some Welsh local authorities currently have levels of old age dependency that the UK as a whole isn't expecting to see until the 2050s! (30-40) And all of them are in the "West Wales & The Valleys" EU region. Remember what I said about GVA figures earlier. Is it any wonder why the Welsh economy struggles if these are the sorts of numbers bandied about

?
With the old age dependency ratio in Wales increasing, who's
going to pay for all the extra elderly in the future? Will people
my age have to work for significantly longer than current pensioners?
(Pic : The Guardian)
Wales, as a whole, has an old age dependency ratio of 28.4. So there's roughly 3 working age people for every 1 pensioner. In some Welsh authorities, it's already lower than that that.

That doesn't necessarily mean there'll be strain on things like social services and health, as long as people have a long healthy life expectancy so they don't need to rely on those things in the first place.

If we don't live healthier live

s in old age, then it'll

t means we'll need to consider immigration of 16-

40

year olds to work, pay tax and support

pensioners

; as well as a higher birth rate – especially in rural Wales - to provide more sustainable levels of working age people

down the line

.

It's also significantly more expensive to provide services in sparsely-populated rural areas than urban areas for a whole host of reasons. It will probably be better (for the state) for the elderly to live somewhere like Cardiff compared to Conwy.

B

ut peace and quiet is something retired people might want. We either need to either quietly discourage that, or come up with ways to live with it.

When you factor in things like a higher relative percentage of working age people with disabilities too – who aren't counted as

dependents, but who don't work - there are still major challenges facing parts of Wales.
Impact on politics

It's unclear. The number of pensioners hasn't massively changed nationally since 2001, but in individual constituencies and regions, the numbers of pensioners could have an impact on politics locally.

It's anecdotal evidence, but older people are generally more conservative, more eurosceptic and in Y Fro neither likely or

unlikely to speak Welsh

as well as being cultural nationalists (both Welsh and "British"). They also turn out more at election time.

Another thing that the figures highlight is that 40-70 year olds are

too dominant in politics at all levels in Wales. Maybe that's for good reason, because people want to elect someone with "life experience". Perh

aps now

you can see why those aged under 30 are switching off from politics altogether, or more interested in taking up single-issue causes/activism

as opposed

to institutions like local councils, the Assembly

,

Westminster and the European Parliament.

There's a massive risk of creating a generation gap in Welsh politics that will

be hard to

close because young people will never become interest

ed

in mainst

ream party

politics in the first place. It's entirely plaus

i

ble that political parties in Wales will struggle to recruit new members and candidates in the long-term, because politics has effectively turned its back on an entire generation

.



There are numerous examples

proving

younger people can be elected to office at all levels. But having one or two "token" young politicians in local government, or putting them in the ghetto of student/"yoof" politics, doesn't cut it if politics wants to be representative.

For example,

b

ased on the census figures, the Assembly should currently have at least 9 AMs aged between 18-29

and 10-11AMs aged over 65. Though they're not far off the latter, they fall way, way short of the former.

Unfortunate implications in The Valleys

The general "youth" in the valleys could be down to at least two factors.

The first one is shorter life expectancies than the rest of Wales, dragging

average ages – especially means – downwards.

The second one could be a result of people having children younger, including teenage pregnancies. This means that the percentages of young adults and school age children are boosted, as there would have been more young adults and 15-16 year olds having children than the Welsh average over the census period – though the numbers of teenage pregnancies are falling.

Now, teenage pregnancies aren't a "good thing". However, in the long-term it could help keep old age dependency ratios in the Valleys at a more sustainable level, but that'll only work if the economy improves. Those kids being born to younger parents will need to be well brought up, well-educated and have decent jobs waiting for them when they're older.

How can we keep Wales "young"?

I don't know what a "good" old a

ge dependency ratio would be

, but I'd guess we should aim to get it down towards 20% nationally, allowing a bit of variation betwe

en local authorities

.

First and foremost – boost the birth rate. However, it's nowhere near as easy as that, as having children is dependent on a whole host of other things.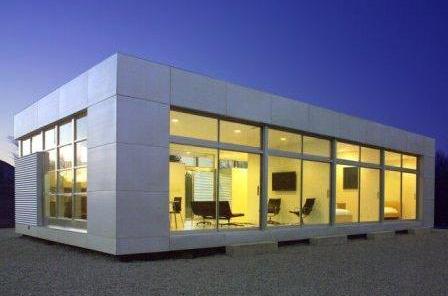 Do we need to place less emphasis on owning property
as an investment? Do we need to come up with ways to build homes
cheaply and retain younger families?
(Pic : prefabs.com)

There's the issues of housing and housing costs in general. We should probably not place as much emphasis on homes as an investment, as well as encouraging long-term renting and perhaps see a sustained, managed decline in house prices. One way to do that would be to increase supply, and I've covered that before. We need to build more starter homes, and those homes have to be affordable, perhaps using innovative methods of construction.
Next, there's the question of tackling under-employment. We need better paid and higher-value added jobs, particularly in rural parts of Wales, to prevent young adults and those in their 30s-40s from migrating away, leaving only the old - a ticking time bomb with regard key public services. Expanding apprenticeships and providing large numbers of low-paying, low-skilled jobs is fine as a stop gap, but there needs to be something better too, so young families can actually establish themselves.

Retaining graduates – especially home grown ones - once they've graduated is linked to the above. It doesn't seem to be too much of a problem in places like Cardiff. However, if you stem the "brain drain" across Wales, it might convince employers and companies that they can set up higher-value added enterprises, which means better jobs, more money in the local economy and hopefully, eventually lead to more children.
How does Wales retain graduates from Welsh universities?
More importantly, how do we convince employers that we have
the right skill set in the first place?
(Pic : BBC Wales)
New communities designed from the outset to be family-friendly, as well as family-friendly working practises, would also go some way as to encourage a higher birth rate. The valleys, from an objective perspective, are in many cases ideal to bring up young children. We should make more of that, but that means getting to grips with some of the long-standing problems too. That'll mean a lot more than third sector "projects" and housing renewals.

I also mentioned earlier "positive discouragement"

with regard

elderly people moving to rural Wales, and instead moving to urban parts of Wales to spread the older population out a bit more. By "positive discouragement" I mean doing things that

might benefit

a rural community as a whole, but put people off "

seeking peace and quiet

"

:

windfarms and energy projects,

b

lack metal

festivals

next to nursing homes, active agriculture (with all the noise and smells), planned expansion of larger rural towns, dogging, business parks, road improvements etc.