On Monday, the Silk Commission published the conclusion of the first part of its remit, covering the devolution of fiscal powers. The full report and executive summary are available here.

There were a total of 33 recommendations, and I've summarised the

m

below. I strongly recommend you read the executive summary at the very least yourselves though.


Devolution of tax powers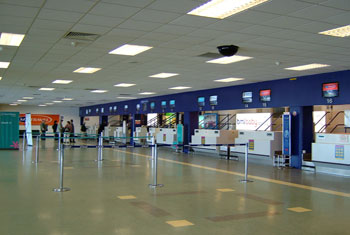 Will devolving Air Passenger Duty for long haul flights with Westminster
retaining the control over APD for short haul flights until they decide it meets
their own policy objectives....heh....heh....I'll just catch my breath...
result in a turnaround in....oh f**k it.
(Pic : Holidayextras.co.uk)

"Smaller yielding and local taxes" – It's recommended these are devolved. These include : Air Passenger Duty, Stamp Duty (on land), Aggregates Levy and Landfill Tax. These don't amount to much revenue (less than £200million), but could be used as tools to help Welsh Governments meet policy objectives. For Air Passenger Duty, it's recommended it should only apply to long-haul flights in the short-term, with Westminster deciding whether to go the whole hog as part of its own aviation policy. I think attracting long haul flights to Cardiff requires more than that. And the suggestion that Valley, Swansea, Pembrey or Harwarden could be developed into international airports off the

back of changes in APD

is hilarious.

Non Domestic (aka Business) Rates – NDR is currently "half-devolved". The Commission recommends devolution in line with Scottish arrangements. Parties have focused on changes here as a way to boost small businesses, while the Welsh Government carried out its own review earlier this year.

Corporation Tax – The Commission accepts it's "a powerful policy", but recommends against devolving corporation tax - unless it's devolved to Scotland and Northern Ireland.

Corporation Tax (within enterprise zones) – Subject to state aid requirements, the Commission believes that "enhanced capital allowances" should be allowed in Welsh enterprise zones.

Income Tax (Partial) – The headline-grabber. Current bands (20p, 40p, 50p) would be reduced by 10p respectively, and the Welsh Government will be able to either restore the status quo (raising each by 10p) or vary things. The Welsh Government would have the power to set each rate independently of one another. So, for example, they could set a basic rate of 19, a higher rate of 41 and an additional rate maintained at 50. The block grant would use "indexed deduction" to reflect the changes.

The impact of income tax changes is small. If the higher rate rose/fell by 1p for example, it's estimated to make a £16million difference either way. It's the basic rate which has the power as a potent tool, with a £180million impact either way.

I think the Assembly would be terrified of pursuing a different income tax regime from England, because that's been their mentality since day one. I wouldn't be surprised if they maintain the status quo, perhaps raising the basic rate to fund one off projects. Or, they could raise the higher rates to service borrowing when required, or lower them to encourage wealthier people to move to Wales.

94% of residents living in Wales, work in Wales, so I don't see what the report's point is about an "interconnected economy with England." The numbers out-commuting amount to 2.5% of the Welsh population. It looks to be the opposite to a large degree – the likes of Flintshire aside. They do, however, conclude that "modest" changes to income tax would have little impact on cross-border migration.

Why do people think these problems have never been encountered in human history? Have they ever been to a "eurodistrict"? Or US state border? Or better still, the Irish border? Or the Isle of Man?

It's also recommended that new taxes - within devolved areas - created by the UK Government should be considered "with a presumption in favour of" devolution to Wales.

Borrowing, "fair funding" & legislative requirements
"Toytown Treasury"? Or big shake up in economic reporting and powers?
(Pic : Buildingopinions.com)
Last month, both governments agreed that the Welsh Government should have borrowing powers, as long as they raise the income to service it. So the fact that borrowing powers were included wasn't a surprise.
Currently, the Welsh Government needs to plan capital spending over a three year period. It's a fixed pot of money set by Westminster. The report recommends that the Welsh Government be able to borrow directly from the UK Government – with agreed limitations – for both:
Capital expenditure – Suggested up to £130million per year.
Revenue expenditure shortfalls – Suggested up to £100million, with total debt limited to £500million (as currently).

The exact figures, limits and arrangements would need negotiation between the governments. The fact Wales has a significantly lower PFI debt than Scotland – just 1% of the UK's total - suggests Wales might be able to service higher levels of borrowing, perhaps up to £3billion in total.

"Fair funding" wasn't part of the commission's remit, but they suggest a new funding arrangement be agreed before moves on this – so does Carwyn Jones - as both governments will share responsibility over taxation. The Welsh Government might also be able to switch spending between capital and revenue spending – subject to agreement.

It's recommended a "Welsh Treasury" is established - effectively replacing the existing Finance Department – to oversee it. That seems like a cosmetic measure to give us the illusion that these are heavy duty powers. But there are indications that economic monitoring will be significantly beefed-up.

The Commission recommends that within this Parliamentary term (by 2015), a Wales Bill is passed to include all the measures listed, and including provisions for a referendum. All the tax and borrowing powers - except income tax powers - would come into force in April 2016.

The referendum
Sigh. Here we go again.
My bet is on a sub-30% turnout sometime in Spring 2018.
(Pic : BBC Wales)
It's proposed that the power to vary income tax be decided via referendum, once both governments agree to funding reform. Simon Thomas AM (

Plaid

, Mid & West Wales) let slip on Twitter that it was at the behest of Labour and Conservatives.

True Wales "warned" that tax powers would follow a successful 2011 referendum. They were right, but for the wrong reasons. In an ironic (and hilarious) twist, Welsh Labour have explicitly said several times that they're not seeking tax-varying powers. It's a logic grenade being hurled into the True Wales camp. Do they campaign against Westminster's mandate to decide these things? This was their doing.

Once again, a Welsh constitutional decision, which is very staid, dull and technical – but important - will rest on whether Labour want it or not. All indications are that the answer would be no.

Welsh Labour are,on the whole, pretty good at keeping in step with public opinion, but this might be an example of when they're not. Polls have consistently suggested a majority are in favour of tax-varying powers, whilst, more crucially, there's a suggestion people don't see the point in a referendum on the issue.

A referendum on whether the Assembly should have the power to vary in....your eyes are glazing over, aren't they? Richard Wyn Jones and Roger Scully put it better than me. A referendum would be easily won IMHO, but if we're going to have referenda, let's ask something significant and worth the effort.

The referendum won't happen this Assembly term, and income tax powers (which I said are pointless as, in practice, there'll be a fear of differing from England) won't come before 2020. Seven-to-eight years. In political terms, that's a glacial pace.

There might be a legitimate reason for the "delay" - to get the right state apparatus in place. However, while the Assembly tinkers with landfill taxes and air passenger duty for long-haul flights (that don't even serve our only major airport); Scotland might have seceded, on current trends Offa's Gap is likely to be wider than it is now and our tax base could be much, much smaller.

Conclusion :

P

issing into

the wind
Aggregates levy. Yeah.
(Pic : Telegraph)

The announcement confirmed the nuggets of info released over the last year or so. It's not exciting stuff, and I doubt it'll make much of an impact, but overall, it's another one of those "steps in the right direction."

The big - and perhaps only significant - positive is the devolution of business rates, which all parties support reforms to. That lever's also hefty in terms of the revenues involved. Borrowing powers could be used effectively too. Emphasis on the "could".

Labour get what they wanted : control of "minor taxes" like air passenger duty, capital borrowing powers, an acknowledgement that a "fair funding" agreement is needed and income tax powers are stalled.

I imagine the other parties will be happy too. Tories because they can propose tax cuts/"responsibility" in Assembly elections without making any real impact, Plaid and Lib Dems (mostly) for the same reasons as Labour. Though Plaid have said, perhaps unsurprisingly, that these recommendations "don't go far enough."

I would've preferred recommendations that put pressure on the Assembly. That means, in addition to business rates, borrowing (including bond issue) and the minor taxes : complete control of income tax, corporation tax - and perhaps vehicle excise, fuel duty and alcohol/tobacco duties too (because transport and health are [supposed to be] devolved).

And all to come into force in the next Assembly term - minus referendum - so we can go into the 2016 elections with manifestos promising policies that would make people sit up and take notice for a change.

I might be pre-judging Part II, but I hoped I would be saying Wales is reaching - in constitutional terms - a federal "endgame". If it's done well, that's something I could live with. This isn't that, and every time it's fudged, it pushes me further into the "screw the lot of you" camp by giving me the distinct impression that Wales isn't being taken seriously in

either Cardiff Bay or Westminster.



I doubt I'm the only one pissed off with the same constitutional arguments flaring up again and again. It isn't exciting, it's dull and unnecessary. Gradualism might be appropriate for devolution as a whole, but the economy and fiscal responsibility scream out as areas where Wales - quite literally - can't afford to take mere "baby steps in the right direction".

We'll be back here again in the 2020s, probably deciding whether the Assembly gets full control of income tax, or other minutiae that should've been decided years earlier.

We'll be arguing over whether we have another referendum too. That could be because of our political class's innate lack of confidence in their own abilities, or even their own feelings of inadequacy about their mandate to govern Wales.

And, considering how joint powers over legislation works/worked so brilliantly, I wonder what glories await us with taxes.

We could have a nation state that treats federalism as a serious proposition, whilst being able to elect politicians at "state level" who can improve lives with meaningful, not half, or even quarter measures. If AMs want to play in a sandpit with their paper round money, and MPs approve of that, I think it's fair to treat both accordingly.

If anyone wanted reasons why the vast majority of people don't give a toss about Welsh politics - this is one of them. It's taken me just 20 months to go from wide-eyed optimist to cynic of all things "devolution".

Maybe those massed ranks are the wise ones, and it's never been a more tempting time to join them.