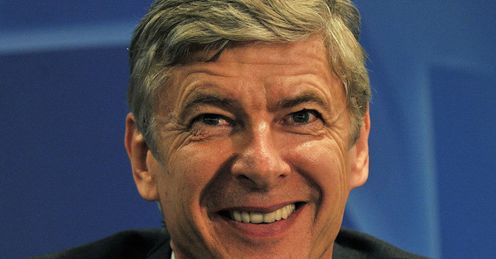 "Positivitee" "Gret beleef" "Mental strengx" "Leetle beet short"
Yeah, I've heard that quite often down the years.
(Pic : Sky Sports)
Yesterday, Leanne Wood made three big announcements on the future direction of Plaid Cymru. Two of them mirror what she said during her leadership campaign about generating new ideas and an active membership. The last was a bit of a surprise – in both a good and bad way.

Since Plaid returned from the summer recess, it's become obvious that the party as a whole have been rather "bouncy". It's

a

s though they've gone through a spiritual cleansing of sorts, and have come out fighting with a shared sense purpose and optimism. It's like Arsene Wenger just before the season starts.

Plaid are the Arsenal of Welsh politics. On their day they can match anyone. They're youthful, play an attractive game with a progressive philosophy that involves doing things the "right way" – but they've won bugger all for what seems like an eternity. They'll have moments like scoring five goals against Spurs, the opposing manager twitching away on the sidelines. However, other clubs win the trophies at season's end. Especially the red team from oop north that nobody likes except their own fans.

Good, yet bad. Electable, yet unelectable. I'm excited by all three announcements, but that old "Plaid Paradox" is in the background, sulking, with its arms folded, being a party pooper.

A crowd-sourced manifesto

Plaid Plus : Radically brilliant. It's not that unusual either. This method has been used in South America, by mainland European "Pirate Parties" and in Iceland to draw up a new constitution. This is the kind of idea I would've expected to come from Plaid since Leanne Wood's election as leader. It's the sort of thing that could give the party's grass roots real influence over the direction of the party – and Plaid already had a reasonable track record in that.

How this would work is the issue. I could certainly see it being popular amongst the young, while older members might prefer the traditional way. Plaid are definitely taking the bull by the horns in this. It remains to be seen if other Welsh parties would follow them.

Plaid Paradox : I'll have whatever Plaid are sm

oking.

There's a reason parties have professional policy wonks and policy advisers – because wonks know what they're talking about (most of the time). Although this is a radical suggestion, you could interpret it as Plaid saying : "We've run out of ideas – over to you." It might also insinuate they're replacing Nerys Evans (who's standing down as Plaid's policy director) on the cheap.

There's the

"

opportunity" for some popular, but stupid, idea to make it onto the policy agenda. But

t

here's a danger that if they made it members-only, or heavily moderat

ed,

they would undermine its intent. If they didn't, then they would open the doors to "entryists" with their own agendas.

Open primaries and membership

Plaid Plus : Opening up politics in a way not seen in Wales before. This takes advantage of one of Plaid's big plus points - that they're as much a national movement as they are a political party. I did say that Plaid under Leanne Wood would become a "popular progressive front", and this is a manifestation of that.

It breaks a stuffy, closed-off "old boys and girls" network of cliques. You get the impression that many candidates (in all parties) are selected based on seniority and it being "their turn", not how good they would actually be at the job. If people want to be selected, they might need to become more active within party circles to get noticed – which would boost Plaid's grass root campaigning. If potential members realise they could very easily go from leaflet poster to prospective Councillor/AM/MP/MEP with the right attitude, it might dramatically boost membership levels and professionalism too.

Plaid Paradox : A carpetbagger's charter. It's unclear how this would work in practice.You could end up with a crap candidate who matched whatever boxes Plaid wants to tick, or a Mohammad Ashgar Mk II. You could also end up with the loudest, populist candidate being selected - not the best. I'd be annoyed if I were a long-standing, paid-up member of the rank and file, who signed up to the party's constitution in good faith, only to be overtaken in "stature" by an outsider who might not agree with what the party stands for. I think that goes for any party. Having open selections might make sitting Plaid

politicians

paranoid and constantly looking over their shoulders too - that might be good for keeping them on their to

e

s, but bad for morale.

This could be seen as not just an appeal to "everyone", but

also

to "Non-Plaid Nationalists" who don't like the idea of being inside the tent p

ee

ing out (for whatever reason). Although we might be big on the internet, I doubt we number more than a few hundred in "real life". By not joining Plaid, I think we're doing them a favour. We can say things we wouldn't get away with if we suggested them as members, whilst stimulating "debate"

.



Leanne's 2016 constituency contest

Plaid Plus : Leading the cavalry charge. There are certainly "soft target" seats (not including Llanelli) Leanne could be selected for and stand a chance of winning. Cynon Valley springs to mind. You could probably include Neath and Caerphilly too, but Plaid have tried there before. Ultimately though, if Plaid have ambitions of "doing an SNP" they need to start winning constituency seats. What better way to do so tha

n

the party leader leading the charge. But it'll have to be an existing Labour seat east of the Lougher to avoid it becoming a non-story.

Plaid Paradox : A pointless risk. I might be the exception, but I don't really care about constituency links. I just want AMs – from all parties - who get on with the job and represent

our

interests in the Senedd as best they can. Leanne might've cheapened the status of regional AMs by making constituency AMs appear more legitimate. I doubt that was her intention, but that belief - which appears to be held by quite a few people - is nonsense. Many of our best AMs have consistently come from the regional lists. Some of the wors

t are in the safest FPTP seats.



There's no guarantee of a pay off either. Every Plaid FPTP victory is just likely to result in a Labour regional gain – barring a big share of the regional vote for Plaid as well. By going "all in", Leanne might well have turned the 2016 election into a one constituency, FPTP referendum on the future of Welsh Nationalism. I hope Plaid members, eager to praise Leanne's undoubted grit, know what it means if she loses the bet.