Hat tip to Valleys Mam. Although everyone is no doubt focusing on AWEMA at the mo

ment, I'll be looking at that next week.



What is Communities First?
The First Assembly decided concrete action needed
to be taken to tackle deprivation, but had to do so within
their limited powers.
(Pic : cpghr.com)
Every three years or so, an audit's carried out to determine how deprived council wards in Wales are compared to one another across several indicators, including : health, employment, access to services, education and housing - the Welsh Index of Multiple Deprivation. Similar surveys are carried out in the rest of the UK.

Communities First was established by Rhodri Morgan's government during the First Assembly between 2001-2002. It was set up to tackle deprivation in the 100 most deprived council wards in Wales, which has risen to around 150 today.

The overarching aim, was to provide a "bottom up" way for these communities to combat poverty, by allowing them to tak

e

strategic decisions at a local level themselves, using a set pot of money distributed by the Welsh Government.

Around £300million has been spent by successive Welsh Governments, and roughly £40million annually, since Communities First was established. It remains one of the more memorable flagship policies of Welsh Labour since devolution.

The Assembly circa 2001-2002 was a different beast. This sort of thing was, largely, the extent of the Assembly's powers – they could only administrate and make slight changes. Considering that context, Communities First was quite ambitious.


In many respects, it's a little government's big idea.

However, you could argue that - while it's done some good things - it's an example of everything that's gone wrong in Welsh public policy since devolution.

How does it operate?

Communities First areas are designated by the Welsh Government and local authorities. Sometimes they encompass entire council wards, but more often that not, they'll consist of deprived parts within wards called Local Super Output Areas (LSOA's). These could be a rundown housing estate, a former mining village or a deprived area within a wealthy ward.

Communities First Partnerships oversee the scheme at community level. These are specialist

community regeneration teams, who coordinate projects and provide a level of professionalism. They're supposed to anyway.

The Welsh Government oversees a Communities First Trust Fund, which provides grants and loans to the Communities First Partnerships for projects in their areas.

For example, the funds could be use for : local litter clean-ups, equipment, environmental schemes, sports schemes, food co-ops, job matching schemes or to fund other unrelated community groups. Locals would come up with an idea, or an issue, and the Communities First Partnership would bring the right people and organisations together, source the funding, and make something happen.

As deprived areas gain a greater sense of control over their own communities, they might take more pride in the

msevles and

community. They might find a job, seek out help they need, or re-skill – knowing they'll get Communities First support and minimal interference from Welsh and local governments, neither of which they might necessarily tr

ust.
Positives & Negatives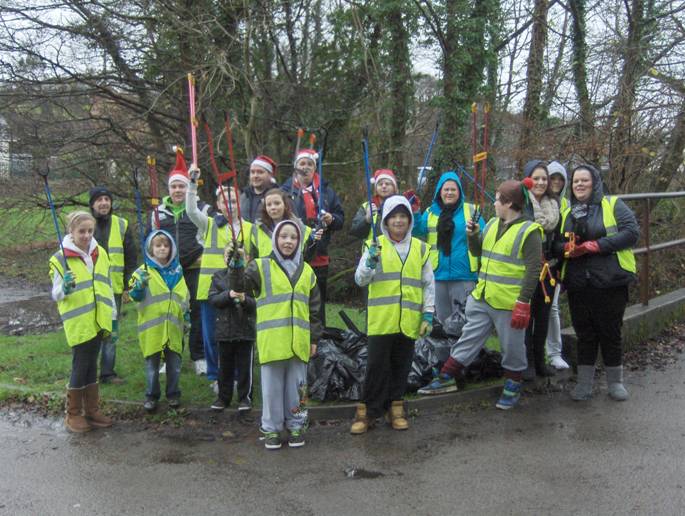 One big plus from Communities First has been improvements
to the physical environment of some communities.
(Pic : Communities First Llangeinor)

Most of this is based on anecdotal evidence, but I believe most of it would stand up under closer scrutiny.

Positives
It's made a noticeable difference – I live next to a Communities First area in one ward, and there's also a Communities First area within my own council ward. The physical changes in ten years are, in some cases, quite remarkable.
It's given some pride back – Some of the people in these communities who worked with Communities First Partnerships are now local or community councillors, or have run for office. I do think the scheme has given people a sense of ownership – if still reliant on the Welsh Government.
It's impacted crime – The area I live near to was once a very run down, drug-ridden estate with serious problems. It's still has problems, but thanks to things like Communities First, the residents stand up to criminals a lot more now. Things like drug offences and anti-social behaviour are treated more seriously, and a level of trust has built up between residents and the police/authorities that wasn't there before.
It's improved the environment at community level – This has been one of the big plus points, in particular work with the likes of Groundwork, Tidy Towns and Keep Wales Tidy.

Negatives
It's open to corruption/cronyism – There are well known cases at Plas Madoc (Wrexham) and now in the Cynon Valley too. That's not to say the whole thing should be judged by a few isolated cases, but personally, I think it's the tip of the iceberg. There seems to be very little oversight, and the Partnerships – if they wanted to – could become a cliquey law unto themselves.
It's "top down", just at a lower level – Communities First schemes are ultimately led by "missionaries", spreading the good word of the Welsh Government. They usually have small teams of administrators and coordinators. There's nothing inherently wrong with that, but I wonder how much money and effort has been spent administering the scheme instead of on outcomes?
It spreads funds thinly - £40million a year spread between 140-150 areas works out at roughly £260,000. Take away the costs of employing the staff mentioned above (for arguments sake, four people earning an average of £16,000 per year) and that falls to £196,000. It's not as clear cut as that, obviously. The Welsh Government are changing this (see further down), but I'm willing to bet most local authorities spend that on pavement repairs each year.
It hasn't tackled many of its core aims – Time to investigate that further....

The wider issue : Does it work?

Communities First was set up to work towards the "strategic outcomes":
Prosperous communities

Learning communities

Healthier communities

There are no definitions of what would constitute "success" here. If you go by raw deprivation figures (2005, 2008, 2011), the answer to the question has to be no.

The areas are, generally, as deprived now as they were when the scheme started. However, thing have improved in a few cases. Butetown was the most deprived council ward in Wales in 2005, it's now "fallen" to 68th (so it's still amongst the most deprived wards). Very few areas have come out of Communities First after ten years.

The same names crop up year after year at the top : Rhyl West & Rhyl South West (Denbighshire), St James (Caerphilly), Gurnos (Merthyr Tydfil), Riverside (Cardiff), Townhill (Swansea), Tylorstown & Penrhiwceiber (RCT), Pillgwenlly (Newport)....

In Bridgend, you have : Caerau, Sarn, Blackmill, Llangeinor, Bettws, Morfa (Wildmill Estate) and Cornelly – joined in 2008 by Brackla (Meadows Estate). Of these, only Blackmill and Llangeinor have made noticeable progress on the deprivation index.

Ten local authorities had more than half their LSOA's in the 50% most deprived areas of Wales in 2008. Four (RCT, NPT, Merthyr Tydfil and Blaenau Gwent) had more than 70%. This hasn't changed in 2011, and I'm willing to bet it hasn't changed much since 2005. In fact, probably due to the recession, the situation has worsened in some authorities.

Things like education attainment levels have improved - the numbers leaving school without qualifications have fallen. That's likely down to national initiatives, not Communities First.

Maybe ten years just isn't enough time, or maybe the Welsh Government's flagship anti-poverty scheme just isn't working. The Assembly's Public Accounts Committee found in February 201

0

, that Communities First "wasn't providing value for money"

,

criticised the lack of leadership from the top (which it wasn't supposed to do anyway

, in fairness

) and the lack of prog

ress indicators.



Like many measures to tackle Wales' big issues, Communities First looks like another well-meaning initiative, that promises a lot, but perhaps wasn't set up the right way to do its job. Another tinker measure, from a government of tinkerers.

What's Communities First's future?
The Plas Madoc scandal in Wrexham has been symptomatic of some
of the problems relating to Communities First, which the Welsh Government
now hopes to tackle.
(Pic : BBC Wales)

The Welsh Government undertook a review of the scheme between 2011-2012

.


Communities First areas will be clustered, so they cover larger areas and larger populations (up to 15,000), creating economies of scale. The idea is that management structures will be simplified, there'll be stricter guidelines to receive funding from the Welsh Government ( i.e.better delivery plans, guaranteed positive outcomes) and they're going to take other factors other than the deprivation index into account (i.e. school & hospital performance, rural sparsity).

I think the Welsh Government have realised, perhaps pushed by the Plas Madoc scandal, that Communities First couldn't continue as it was. I wouldn't be surprised if the scheme is re

-

branded post-2015, or leadership handed over to local authorities. Labour are unlikely to admit defeat on this, opening them up to claims that they've wasted up to £300million of public money, which would be harsh

- they tried at least -

but accurate.

I think there's a quiet acceptance that it hasn't worked out as planned. The new proposals will reduce administration and promote more "joined up thinking" between Welsh Government, local government and various public bodies. I'm not sure that would make that much of a difference.

The only other proposal to match Communities First's aims, so far, has been Leanne Wood's Greenprint. On paper, they sound similar.

The difference between Communities First and the Greenprint, in my opinion, is that Leanne has been specific in the Greenprint's goals (communities benefiting from the green economy), and sees potential from a co-operative and perhaps an entrepreneurial perspective - not just an anti-poverty measure.

The Greenprint seems more "permanent and self-sustaining", while Communities First is always going to be reliant on Welsh and Local Government for funds, and "appointed experts" for leadership.

I think, if there's going to be a replacement for Communities First post-2015, the Welsh Government (whatever the colour), would do well to take some of those points on board.