A lot's been said recently about the High Speed 2 project, with its future likely to be decided over the next few months. It's been discussed at some length in The Western Mail (by former Bridgend Council leader Jeff Jones, former First Minister Rhodri Morgan, Prof. Stuart Cole, Stephen Crabb MP and others).

In the Assembly, a Plaid transport debate addressed HS2 yesterday, while the Welsh Lib Dems made their thoughts clear a few weeks ago, as have our MPs (also via Plaid Cymru).

Syniadau and Borthlas have covered it on the blogosphere, while there've been Click on Wales articles from Dr Eurfyl ap Gwylim and secretary of the Assembly's Cross-party group on Rail, Jon Antoniazzi.

I thought it would be useful to cobble together all the info we have to determine - quoting Carwyn Jones - "what we know" about this proposed project's impact on Wales (and the rest of the UK) as it stands.
High Speed 2 : The Current Plan

HS2 is a proposed high-speed railway, serving central & west London (with a possible Heathrow Airport spur), Birmingham, and in later stages Liverpool, Manchester, Sheffield and Leeds. It compliments the only high-speed railway on the UK mainland - High Speed 1 – between London St Pancras and the Channel Tunnel, except HS2 will start from a redeveloped London Euston station.
It'll enable a fleet of new trains to travel at up to at least 220mph (350km/h), matching networks on mainland Europe like the French TGV, Dutch Thalys and German ICE. It'll also be competitive with domestic airlines and road journeys.

A rail journey between Birmingham and London presently takes between 1hr24mins and 1hr12mins. HS2 will reduce it to 49minutes or less. After later stages are built, it'll cut journey times between London and Manchester to 1hr8mins, Sheffield 1hr19mins, and could knock up to half and hour off journeys from Edinburgh, Glasgow and Newcastle-upon-Tyne.

Originally proposed by the previous Labour Westminster administration, it's estimated the project will be completed by 2033, with the first phase completed by 2026.

What's the case in favour?

The current UK rail network is a Victorian relic, plus a victim of decades of under-investment between the 1970s-2000s. Despite efforts to engineer solutions – like improvements to the West Coast mainline - the UK is behind the rest of Western Europe in terms of high-speed rail connectivity. The current rail network is overcrowded, creaky and often adds to travel times due to the high levels of maintenance required. A recent Network Rail-Atkins study suggests that there would be engineering disruption "for 14 years" to bring existing lines up to the same capacity as HS2.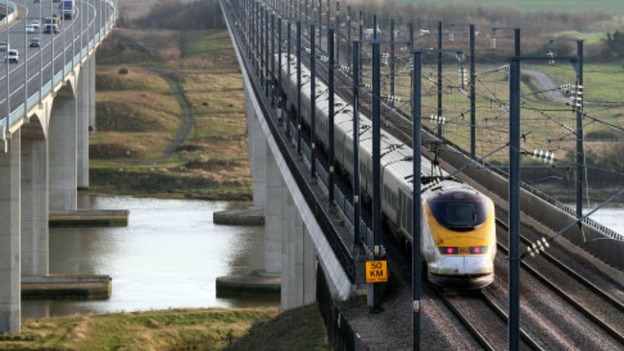 The UK is playing catch up with the rest of Europe on high-speed rail,
with HS1 currently the only stretch of high-speed railway on
the island of Great Britain.
(Pic : ITV)
In terms of geography, central and northern England (and southern Scotland) is perfect for high-speed rail because most of the large centres radiate in straight lines from London. Because the northern half of England is "thin", you can connect many cities with a single Y-shaped line, spanning England's north-south divide.

KPMG believe the economic impact (pdf p50-57) will be £15billion per year once completed (at 2013 prices), almost all as a result of improved business connectivity. Greater London stands to gain most as a single region (

+£2.5-2.8bn

) with the West and East Midlands (

+£2.6-5.3bn

), Greater Manchester (

£0.6-1.3bn

) and Yorkshire (

£1.5-1.9bn

) also standing to benefit. The impact on the "rest of the UK" is said to be between £5-7billion – likely falling on Scotland, NW and NE England because services can connect with HS2. I come back to Wales later.

It's estimated constructing HS2 would create 22,000 construction jobs, and once completed would create 100,000 jobs in the wider economy.

The UK Government believe HS2 will allow more freight trains to be run on the conventional rail network, taking lorries off the road. A Greengauge 21 report (pdf) claims total carbon reductions from the first phase alone would amount to between 1.8-3.5million tonnes over 60 years, with the higher figure dependant on non-HS2 specific environmental policies being enacted too.

What's the case against?

There's strong opposition from people living near the proposed route for reasons including : noise (from construction and operation), demolition of ~1,000 buildings, and the effect on views and property prices. These arguments are typical of any planning application, but have deeper political implications because they impact the heart of Tory England, who aren't used to being shoved around.

Although there might be an environmental case in favour, there's one against. According to an Independent newspaper investigation, HS2 impacts many important areas of ecological interest, including ancient woodlands, important habitats and nature reserves like London's Perivale Wood, the Bernwood Forest in Berkshire and Derbyshire's Norbriggs Flash. Construction of HS2 itself will also cause disruption and release carbon emissions.
HS2 will have a negative impact on all cities not served by
it - including Cardiff, Swansea and Newport.
(Pic : urban75.org)
According to figures obtained by the BBC (pdf), HS2 could have a detrimental economic impact on all major centres not served directly or indirectly by it, including : Aberdeen (

-£220m

), Cardiff (

-£68m

), Bristol (-

£43m

), Cambridgeshire (

-£80m

) and southern English cities like Plymouth (

-£14m

), Exeter (

-£7m

) and Brighton (

-£6m

).

Scotland – apart from Glasgow (

+£201m

) and Edinburgh (

+£328m

) – fares badly too, while the estimated negative impact on the Cornish economy runs to £19m. The UK Government have their work cut out if they're going to try and claim this benefits Northern Ireland.

Also, high-speed rail is generally more expensive to operate and use. Southeastern Trains HS1 services, for example, charge between 20-34% more than conventional rail. If HS2 charges similarly, then it might supress passenger demand, creating both a "rich man's railway" and a white elephant. Many other high-speed railways lose money or barely break even, like France's TGV and Spain's AVE, while high-speed rail technology could be considered outdated and still not as competitive as cheap airlines over longer distances.


If there were any perfect time to build this it would've been during the mid-80s to mid-90s as the Channel Tunnel was being constructed.
How much will HS2 cost?


Your guess is as good as mine. The costs keep changing, usually upwards.

The first phase between London and Birmingham is estimated at around £17-18billion, while the total cost – including extensions to Manchester and Leeds - is estimated at £42.6billion plus £7.5billion for new rolling stock, a total of £50.1billion. Around £14billion of that is contingency funding that might not be spent, but big projects tend to have big overruns. The UK Government and Opposition are keen to cut costs there.

To put that in perspective, the total estimate is ~£3billion more than Welsh GVA. The Institute of Economic Affairs estimate costs could jump to £70-80billion. This is an absolutely phenomenal undertaking and expense that only the proposed new generation of nuclear power stations competes with at present.

HS2 is considered a "key piece of UK infrastructure", so the UK Government firmly believe it isn't subject to the Barnett Formula, which adds a proportional share of public spending increases in England to devolved budgets. Nominally speaking, Wales will contribute ~£2.5billion towards HS2, even if the closest the proposed route gets to the border is 15-20 miles.

The Barnett situation was recently confused by the "mystery" £35million the Welsh Government (it appears correctly) believe came as a result of HS2.

A Money Bill to approve HS2 spending is currently going through Westminster, having cleared a major hurdle in the House of Commons by 350 votes to 34 on October 31st. Plaid Cymru and SNP MPs failed to get amendments passed to absolutely guarantee some sort of Barnett consequential.

In yesterday's Assembly debate, Business Minister Edwina Hart (

Lab

, Gower) confirmed the Welsh Government are "continuing to pursue" Barnett consequentials, while Jonathan Edwards MP (

Plaid

, Carms E. & Dinefwr) has campaigned strongly for consequentials and is unlikely to give up any time soon. There are big problems there that I think have been overlooked though, I'll return to that later.

HS2's impact on Wales

The BBC Newsnight Freedom of Information request provides a more comprehensive picture of HS2's "winners and losers" (pdf). It's based on how "lowly" or "highly" sensitive businesses are to travel costs and business location.
The economic impact of HS2 on Wales, based on the BBC FOI request.
(Click to enlarge)

The areas of Wales that stand to gain from HS2 are the Wrexham-Deeside area and the north Wales coast. That's presumably because of improved connections between Manchester, Birmingham and London, the former two being major centres for central and northern Wales. Also, the proposed remodelling of Crewe station as part of phase two might improve scheduling of trains to/from north Wales, having a knock on benefit. Crewe is also within comfortable driving distance of Wrexham and Flintshire.

If HS2 matches the high sensitivity forecast, however, then any positive effect is contained within the north east, in some areas making the figures even worse, wiping out any positive effect. Technically speaking, Welsh MPs talking up HS2's impact on Wales should hope it flops and that businesses don't care too much about location and travel costs.

South Wales is hit badly - in particular Cardiff and Newport - and economic losses in the south cancel out gains in the north, with the total loss to the Welsh economy estimated at £122-178million in 2037 (at 2013 prices). It's likely to wipe out a significant chunk of any economic boost resulting from electrification.

So, will HS2 benefit Wales?
What do you think?
HS2 itself won't benefit Wales in any way, shape or form.

Nobody has made a strong case for it doing so, instead pointing to unrelated Network Rail projects – like resignalling and south Wales electrification – or claiming that by virtue of being a UK project this benefits Wales by proxy. Regional economic boosts in the north east are - as shown above - wiped out by losses elsewhere in Wales.

Plaid Cymru leader, Leanne Wood, was said to have been criticised by the Twitterati recently for saying HS2 would have a negative impact on the Welsh economy. She was completely correct.

As I understand it, the Crewe remodelling will allow trains from Merseyside to join HS2. Trains from north Wales can't because the north Wales line isn't electrified. Also, as it's said HS2 will "free up space for freight", that implies a reduced or maintained passenger service for those not lucky enough to be on the route. It could even make some long-distance services uneconomical if HS2 attracts enough paying passengers from "slow-speed" rail services.

A significant Barnett consequential will be heavily resisted by the UK Government as it would add further to the astronomical costs of the project.

Also, railways aren't 100% devolved to Wales, so Wales might not qualify for a Barnett consequential anyway. Scotland and Northern Ireland certainly could, potentially to the tune of ~£6billion. If we do miss out because of that, not devolving railways fully when there was an opportunity to do so in 2005 could work out to be one of the costliest mistakes in modern Welsh history.

The very minimum you would expect to negate the negative impact of HS2 on Wales would be to electrify both the north Wales (more from Syniadau) and Cambrian lines (possibly west Wales lines too), alongside the construction of a "Heathrow Hub" that can be used by Swansea-Paddington trains (again, more from Syniadau).

That would reduce journey times between Wales and the HS2 hubs in central and northern England, in addition to other electrification benefits. It could even allow trains from mid & north Wales to use HS2 as a "short cut" to London. The benefits of a Heathrow Hub are self-explanatory, while it would also bring the prospect of a fully electrified north-south line (via the Marches) much closer.

In terms of Welsh companies winning HS2 contracts, we saw what happened with the London Olympics. I doubt many Welsh engineering companies will have dealt with something on this scale before. I don't think it'll happen to any great extent, but no doubt some Welsh engineers and construction workers will end up working on the project if it goes ahead.

If we're going to be honest, the truthful "benefit" to Wales will literally be benefits. By that I mean boosting the economy of London and cities served by HS2 to such an extent that tax-take increases, with Wales seeing more fiscal transfers to spend on people out of work and socio-economic development in an attempt to make up for the economic losses.