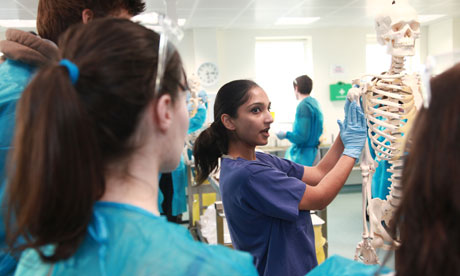 Plaid Cymru recently announced ambitious plans to recruit an
extra 1,000 doctors - across all grades - over the next two Assembly terms.
(Pic : The Guardian)
Yesterday, Plaid Cymru's Shadow Health & Wellbeing Minister, Elin Jones AM (

Plaid

, Ceredigion), kicked off the new Assembly session by announcing the party's policy consultation on the future of the Welsh NHS.

The headline announcement was that a Plaid Cymru government would aim to recruit 1,000 extra doctors over two Assembly terms.

The consultation document itself is available on the party website.

As you know, the Welsh NHS – and UK in general – is under increasing pressure due to changes to training of junior doctors and shortages of staff in specialist areas.

This is one of the mains reasons given for the controversial hospital reorganisations taking place in Wales. The Welsh Government and local health boards justify it by saying that concentrating specialist services on fewer sites would improve the training environment for junior doctors, and allow patients to be seen more quickly by qualified staff.

Plaid have taken a different route, focusing on the staffing issue instead of the structure and configuration of hospital services themselves.

Specific problems facing the Welsh NHS
We're all aware of one of the big issues - shortages of specialists in departments
like Accident & Emergency - prompting current hospital reorganisations and downgrades.
(Pic : Wales Online)
The document lists a number of serious issues, which I'm sure everyone's aware of:
The aforementioned problems in recruitment of specialist staff, with pronounced problems in : A&E, paediatrics, mental health, obstetrics/gynaecology and geriatric medicine. Wales currently has the third-lowest number of doctors per head in the EU, beaten only by Romania and Poland.

Growth of more lucrative jobs in the private sector which attract newly-qualified doctors and consultants.

Lack of opportunities for consultants to carry out research in Wales, and lack of allied life science jobs (i.e pharmaceuticals) in Wales for those who decide not to practice.

Rural and sparsely-populated areas aren't seen as attractive places to pursue a medical career.

Training opportunities in Wales have been ranked lowly, and trainees are "used inappropriately", covering hospital rotas instead of being trained.
A specific "ticking time bomb", and something that wouldn't be solved by current service reorganisations, is that Welsh GPs are ageing fast, with 20% of the GP and dental service aged over 50. BMA Cymru suggested in 2012 that in the south Wales valleys, up to 40% of GPs will retire over the next decade without replacements.

When it comes to the non-medical workforce (i.e nurses) the issue's said to be not lack of interest, but lack of posts due to cutbacks to nursing positions, loss of experienced nursing staff (to provide training to newly-qualified nurses), an ageing workforce (29% of Welsh nurses are over 50 - p5) and lack of professional development opportunities.

There are said to be no real problems in recruitment of allied health staff either, like health care support workers and physiotherapists, but due to staffing pressures they might be taking on too much too soon.

What do Plaid propose?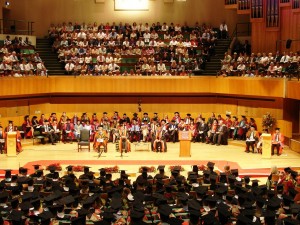 One of the headline policy options is to gradually wipe-out the
student debts of medical students who train in certain specialities.
(Pic : via thestudentroom.co.uk)
Plaid outline four policy "themes", each including more specific policy options.

Theme 1 – Financial incentives to retain postgraduates

The headline policy is to use financial incentives to encourage postgraduates to train in specialisms where there are shortages. Plaid would do that by gradually paying off medical graduates' debt (up to £75,000) for each year they train in Wales in a specialism suffering shortages. This approach has been successfully used in New Zealand, and a similar scheme during the One Wales government resulted in an extra 200 dentists being recruited.

Other options include:
"Golden hellos" for hard to fill vacancies.

Directly-salaried GPs in areas where they're of short supply.

Free training in exchange for working in under-served areas – used in Canada and Norway - which Plaid estimate would enable the recruitment of 350 doctors over two Assembly terms.

Theme 2 – NHS Innovation

This part addresses lack of research opportunities and career development, as well as changes to aspects of NHS working practices. Options here include :
Attracting extra research funding – All Welsh Government departments should make Wales research-friendly, UK Research Councils would be held to account for not funding Welsh research appropriately (Wales received around 2% of UK R&D funds in 2012-13) and establishing closer links between medical schools and hospitals.
Mainstreaming clinical research within the Welsh NHS – Allow more clinical trials, especially those dubbed "real time trials", to be carried out anywhere using modern technology (i.e. specialist computer software). That means research wouldn't be confined to big university hospitals, but can be carried out at any hospital. An example's given where specialist research on respiratory conditions could be carried out at hospitals in the south Wales valleys, while rural health research can be carried out at the likes of Bronglais and Withybush hopitals.
Merging health and social care – This "has been discussed for many years", and will be looked at separately as doctors have complained about "barriers patients face when accessing care".
Paperless working – An example's given where paramedics fill out duplicate forms after responding to incidents, keeping them temporarily out of action. Investment in IT could enable them, and other clinicians, to work distantly across multiple sites. That means, for example, that small hospitals would have access to consultants without consultants physically being there, something trialled in Northern Ireland. It's said a reduction in paperwork could also be popular with NHS staff.
Professional development of non-medical staff – This includes a separate "invest to save" fund for health to create specialist nursing posts, broadening the recruitment base so nursing isn't reliant on women, and investigating substitution of doctors by nurses on some rotas as part of an alternative package to service centralisations.
Promote Wales – A no-brainer, and the Welsh Government are already doing some of this in the form of the Work for Wales scheme. This includes addressing negative stereotypes about Wales alongside promoting existing strengths, like existing centres of excellence (i.e. Morriston for burns treatment). The aim is to recruit an extra 50 doctors in one term through this method alone, and an extra 200 doctors in a second term.

Theme 3 – Doctor training and recruitment
Expanding the number of places at medical schools in Wales, possibly making medical training free to Welsh-resident children in exchange for a minimum term of service in Wales upon graduation.
Use of technology (as mentioned before) to allow things like distant learning at medical centres away from main teaching hospitals.
Protected training time for trainee doctors, and requirements that health boards don't have rotas that are reliant on trainee doctors. Plaid accepts concerns from the Wales Deanery about training but believe their "hand was forced by the Welsh Government".
Implement parts of the Greenaway Review into medical training, which could result in more "generalist" doctors being trained - who are competent across multiple disciplines - instead of specialists. Although specialists will still have a place.
Quotas and bursaries for Welsh-speaking pupils who achieve the necessary grades to study medicine, ensuring Welsh-speaking doctors are still available in Welsh-speaking areas.
Promotion of medicine and life sciences as career options, where talented children are encouraged to apply to study medicine. It also means promoting careers in life sciences in Wales for those studying medicine but who decide it isn't for them. Plaid estimates another 300 doctors could be recruited this way, based on a similar policy enacted in Scotland.
Theme 4 – International Recruitment

This is aimed at short-term staff shortages, and has traditionally been used to fill vacancies. Plaid believe recruits should be targeted from within the EU (taking advantage of freedom of movement), and some Welsh LHBs have already held recruitment events in Spain, Romania and Hungary. There's also the option of training doctors from the developing world on short-term contracts before they return to their home countries.

How much would it cost?
Plaid Cymru propose to - in part - pay for this via a 20p per litre levy on sugary drinks,
similar to those used in France, Denmark, Norway and Mexico.
(Pic : thejournal.ie)
Some policies could save money in the long run, like paperless working. Recruiting full-time medical staff would also reduce the current £60million bill for agency and locum doctors. The total agency bill once nurses and other staff are included is over £150million.

Obviously, the other policies would leave the Welsh NHS with a bill. However, current hospital reorganisations also cost money, as I pointed out last year, so are being done for policy reasons, not financial pressures as the result of "cuts from Westminster".

Plaid were smart enough to admit that costing an extra 1,000 doctors is imprecise because there are variable grades of doctor earning varying amounts of money and costing different sums to train. So to produce an accurate estimate, they used a median salary and – on the advice of the Assembly Research Service - added 20% to it.

The figure Plaid come up with was £65million, based on 100 extra consultants, 200 middle-grade doctors, 300 GPs and 400 juniors.

The costs of the student debt repayment plans, based off the New Zealand figures, would be £13.1million over a single term, assuming £52,500 of a medical graduate's average £75,000 debt was wiped out for 250 doctors.

Some aspects could be absorbed by the existing health budget, but – as you know – Plaid Cymru announced they're considering a 20p per litre levy on sugary drinks (~7p per 330ml can). It was originally flagged up by several medical organisations last year, and last November the British Medical Journal claimed it would be an "effective public health measure" that could reduce the number of obese adults by 180,000 across the UK (or a proportional ~9,000 share in Wales alone).

Plaid estimate this levy would raise around £60million. The more detailed figures they provided last November put the figure – based on current soft drink consumption habits – at between £61.2-72.8million. Plus there's the possible savings to the Welsh NHS and wider economy from reduced cases of diabetes, childhood dental problems and obesity in the long term.

If the numbers add up as intended (presuming Wales would have the power to introduce a sugary drink levy) then the policy verges on being cost-neutral, which – to be honest – sounds too good to be true. I'm also not sure if it includes the cost of all the other measures (some of which involve other departments, like Economy & Transport and Education), or is purely relating to recruiting the 1,000 doctors.

Conclusion : Interesting. Very interesting.
The policy proposals are credible and professional, but are unlikely to result in any u-turn
on hospital organisations. They do, however, offer an alternative to Labour's current plans.
(Pic : Wales Online)
Myself and others have been (rightly) critical of Plaid Cymru often blurting out policies without providing the underpinning evidence. Other opposition parties are just as guilty of that too, while Welsh Labour go in the opposite direction and drown you in management speak.

This is different though. It might not be perfect, but I'm impressed.

This should be the template by which Plaid announces their policies in the future. It's detailed enough without bombarding you with the unnecessary (as I might do) – 24 pages is a snip compared to the tomes that come from the Welsh Government. It's credible and professional. More importantly, the numbers seem to add up. Though any serious attempt to bring in a sugary drink levy might prove controversial.

The vitriolic response from Welsh Labour, none of which attacks the proposals themselves in any detail, proves Plaid hit a nerve. It's the reaction you would expect from a party and government under pressure on health and out of ideas. Their response can, therefore, be easily dismissed as a tantrum that adds nothing positive to the debate on NHS recruitment.

These plans really do need more detailed costings, and there are probably "hidden costs" Plaid have missed - IT projects are notoriously expensive, for one - but the estimates are on solid ground as far as I can tell. Having said that, recruiting an extra 1,000 doctors across two terms perhaps sounds more straightforward than it would be in reality.

I don't think any of this dismisses the need for some service reconfiguration either, but it's clear Plaid have based this on evidence from those in the know and from examples elsewhere that have been proven to work.

If you were to sum up the overarching aim of this consultation it would be to reverse centralisation and downgrades of some district hospitals.

It's too late for that. It's as good as done. An announcement is expected any time soon on the final decision of the South Wales Programme, while it's highly likely at least three hospitals in mid and north Wales will be downgraded too. All that will happen before 2016.

But Plaid can at least, of the opposition parties, turn around and say in some detail, "This is what we would've done".

It's a clear alternative too.