Now,

we're starting to get into the nitty gritty stuff.

This part will look at municipal/county level – a stepping stone between communities/settlements (Part II) and regional/strategic (Part IV), perhaps even national, governance.

Are problems in local government "structural"?

Not entirely. I outlined what I think some of the problems are in Part I.

Most of the time it'll come down to human error, poor policy, poor management, over-management and in some cases extending to cover-ups, cronyism and abuse of powers. However, I do think that the way local government is structured and run will affect service delivery.

You could probably prevent things like this happening by clearing up the role of representatives and those of local government "officers".

The big problems, in my opinion, are : no economies of scale, lack of democratic accountability and lack of transparency.

The first means there's, perhaps, little value for money or poor service levels. The latter two means there's a lack of definitive accountability/responsibility for local authority actions. All that feeds through into local government service delivery.

Therefore - in addressing the economies of scale issue - we're probably going to have to consider a return some form of two-tier local government.

F

or the other two, we're going to have t

o reconsider how local government works.



Why return to two-tier local government?
I don't think it's an open and shut case of bringing back
the old Glamorgans, just a case of deciding at which
level powers should be held.
(Pic : South Wales Evening Post)
I don't think there's much of an issue with there being "too many local authorities." Having democracy close to people means services can be tailored

better to local needs

- in theory.



Creating six or seven unitary authorities - as Dafydd Elis Thomas AM (

Plaid

, Dwyfor Meirionnydd) proposed a few weeks ago – might create a disconnect between communities and local authorities. They might also be too big to provide all services, while existing community councils would be too small. So you would still need a tier of government "in between".

However, the current situation of 22 local unitary authorities means that – collaboration aside – you have varying levels of performance between small authorities (like Merthyr and Blaenau Gwent), big urban authorities (Cardiff, Swansea) and larger rural authorities (Powys, Gwynedd).
So I think the wider problem is the incorrect delegation of functions/power

s

between varying tiers o

f government.



Smaller authorities might be easier to run, but they might not have the resources (or scrutiny) necessary to provide a reasonable standard of service in areas like education or social services.

Areas

like leisure or planning applications

could easily be controlled at this level though.



Larger, sparsely populated authorities might have difficulties providing basic services like libraries or supported bus routes. Urban authorities like Cardiff and Swansea have their own unique problems and issues, especially spatial planning.

The challenge is deciding what powers, and and what level, services should be provided. What should be provided "locally"? What should be provided "strategically/regionally"? What should be provided nationally by the Welsh Government and Assembly?

What's also critical is deciding how delivery of these services could be made more accountable, so failings are picked up and a

cted upon quicker

.

Learning from London
An executive elected mayor, answerable to a smaller council.
Is this what we need at "county" level in Wales?
(Pic : demotix.com)
I'd favour – at a local/municipal/county level – a system similar to that used by the Greater London Authority.

The Mayor of London, currently Boris Johnson (

Con

), has executive and strategic powers over service delivery in the Greater London area within clearly defined "devolved" powers. The mayor – assisted by, but not subservient to, unelected officers and advisers - proposes things like budgets, strategic plans and sets priorities as a directly-elected "head of government". The mayor also acts as a figurehead.

This is a bit like combining existing cabinet and chief executive roles in (Welsh local government) into a single role. It's clear that the mayor, not officers, is "in charge" and 100% accountable to the electorate for service delivery.

The London Assembly – the legislature – has 25 elected members. They

scrutinise the mayor, as well as Greater London Authority departments, in committees. Essentially, they make sure the mayor delivers their promises.

I'm going to propose something similar to this, but with some key differences, mainly in what powers they would have and how they would function.

Municipalities : How many? Why?
A proposal for a municipal tier of governance.
However, these would be weaker than current
unitary authorities.
(Click to enlarge)


Before the creation of 22 unitary authorities in 1996, Wales has 37 district councils and 8 county councils. What I'm proposing is – technically – a comeback for some of the old districts. The goal should be to create a tier of government that's close to communities, but at such a level to enable a "critical mass" to run services effectively.
Major urban settlements could remain as they are (Cardiff, Swansea, Wrexham, Newport). But as some "big ticket items" could be delivered on a regional basis (Part IV), there's a case for "splitting" larger urban and rural local authorities.

I believe - cities aside - it's probably best to aim for a population of between 50-125,000 per municipality. This would mean the likes of Merthyr Tydfil and Blaenau Gwent could remain, but larger, sparsely-populated rural authorities like Powys, Gwynedd and Ceredigion could remain "whole" too.

The ones that could be split up would be highly-populated rural and non metropolit

an

authorities like Rhondda Cynon Taf, Neath Port Talbot, Carmarthenshire and Flintshire.

So, I'm outlining 29 municipalities – roughly one for every 105,000 people. Just think of this as a "starting point". New ones could be created and existing ones merged of course. Powys would be the obvious place to start (Montgomeryshire

& Brecon & Radnor)

, as might Gwynedd (Arfon, Dwyfor-Meirionnydd)

.



Powers & Responsibilities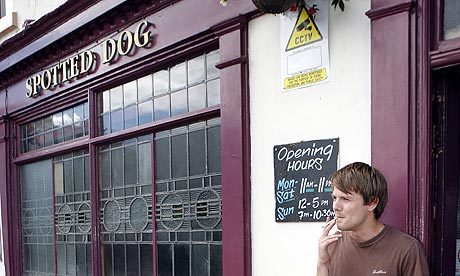 Things like licensing could continue to be decided
at this level, similarly planning applications. However,
major public services like education and social services
should perhaps be provided on a regional basis.
(Pic : The Guardian)
How would you decide what powers/services to "devolve" to municipal level? I'd probably sum it up as services that:
Have an "immediate impact" on local communities.

Don't require extensive management/oversight or long-term strategic planning.

Can be managed effectively by single officers and smaller civil services.

Can be overseen by a single elected executive and scrutinised by smaller

councils.
Based largely on the sorts of powers district councils had pre-1996

, i

t could probably be:
Development Control – Determining planning applications and providing input into strategic plan

ning

(Part IV).
Licen

s

ing

Leisure, Parks & Recreation

Rights of Way & Active Travel
Public Libraries, Arts, Culture & Heritage – Could include responsibilities over things like listed buildings and local areas of special/natural interest.
Car Parking, Parking Enforcement & Street scene

Cemeteries, Graveyards, Crematoria

School Governance – Monitor standards, exclusions, school transport and set strategic direction for individual schools. Possible replacement for existing school governors.
Waste Management – Civic amenity sites and refuse collection.
Public Housing – Debatable whether this should be local or regional.
Markets, town centre management and fairs

Registrars & Electoral Services

Emergency Planning – Co-ordinate plans with other bodies at a local level.
Byelaws – Local laws covering local matters. The powers and areas under which they can be made would be defined via primary legislation.

Municipalities could also have the freedom to collaborate and share services. So, for example, housing and waste management services could still be provided across "Rhondda Cynon Taf" on behalf of three municipalities working together. They should have the freedom to make these sorts of arrangements themselves though, with mediation when required.

The Mayor & Local Government Officers
Should chief executives have a mandate as
directly-elected mayors, not appointees on behalf of
a local authority?
(Pic : South Wales Evening Post)
Directly-elected mayors aren't a popular option in Wales, so I realise I'm going to have to justify this somehow.

Firstly, current executives ("officers"), with real decision

-

making powers, aren't elected. They're appointed as employees of the local authority to run departments on the local authority's behalf. The "Council Leader" is politically accountable for those decisions, but has much less control than might be commonly believed. Similarly ordinary councillors themselves.

I think if we replaced/supplanted officers with a directly-elected chief executive (in the form of a mayor) this would provide the decision-making accountability to ensure services at a local level are delivered with the mandate of the electorate, not whatever officers decide is best.
However, you could well say – "Why not have the leader of the largest party in the council become mayor?"

I think that separating the executive (government/decision making) completely from the legislature (scrutiny) would provide enough "checks and balances" to prevent a situation like Carmarthenshire – where the executive is perh

a

ps seen to abuse their powers (maybe unfairly - ahem) simply because the line between councillors and officers is blurred.

There's no real need for a "cabinet" made up of councillors to oversee the sorts of services I outlined above, so the chief executive role can be empowered in a single elected position. Department directors/officers would form the cabinet/executive board to

advise the mayor

.

Officers would still run local government departments, but they would be working at the pleasure of the mayor. They would switch from decision-making to a purely management role, and carry out the mayor's recommendations as best they can.

So, there would be a name and face deciding these things, that everyone will (hopefully) recognise and who'll be 100% accountable to the electorate.

Powers & Role
Chief executive – In charge of local authority "officers" as well head of government for the municipality. The mayor appoints, hires and fires them. No decision by the council can be enacted without the mayor's approval.
Acts as a "figurehead" (Ceremonial/Lord Mayor functions) – Representing the municipality at various functions and events.
Sets the municipal budget – They would also be able to set any taxes or precepts (Part V).
Sets the strategic direction/plans for municipal services – This could be via 4/5 year plans for services or even as a response to single events.
Power of veto – The mayor could reject council proposals, but this should be seen as a call for further negotiation. It could be overturned by a simple majority vote in the council.

Power to call a referendum on decisions/matters within municipal jurisdiction.

Declare a state of emergency – The mayor would act as part of a command and control team during any civil emergency, and can order curfews, evacuations or (post-independence) call on the use of the military.
Municipal Councils
Councillors would still wield power in the form of a
separate legislature. Considering the "weakened"
position compared to unitary authorities under what
I propose, there could be fewer councillors.
(Pic : Dave Mckenna via Flickr)
If the mayor has the decision-making/executive role, then the council would have a much greater role in scrutiny and drafting legislation (motions, ordinances and byelaws).
Powers & Role
Represent the interests of their ward on municipal affairs – The current job of local councillors. Through traditional campaigning, referrals or via responding to the

c

antrefi (Part II).
Holds the mayor to account – Ensures the mayor delivers their promises, including the power to pass motions of no-confidence, forcing an extraordinary mayoral election.
Propose, debate and amend byelaws – New byelaws, or amendments to byelaws, can only come from the council. This would provide further separation of powers between the executive

(mayor and officers) and the legislature.

Propose, debate and amend motions – Taking the form of a formal request to local government officers or the mayor. For example, a council could debate a motion to keep a local library open, perhaps after pressure from cantrefi affected.
Approve, debate and amend municipal budgets – The mayor proposes a budget, based on his/her strategic priorities. The job of the council would be to scrutinise the budget and propose/negotiate any amendments as required. Budgets shouldn't be passed without the council's approval.
Scrutinise local government departments – This would be done via traditional committees, made up to reflect political representation in the council itself.
Approve planning and licen

s

ing applications – As currently, via planning and licen

s

ing committees. The mayor would have the power to veto a decision, but that can be overturned by the council.
How many councillors do we need?
Banding municipalities by population to determine a
minimum number of councillors - capped at 50.
Treat it as a rough guide.
(Click to enlarge)
At the moment, Wales has 1,264 local councillors. This is being reduced slightly by various reviews, but the ratio of councillor to constituent is amongst the lowest in the UK. I, personally, think this is far too many for the job they do and there's room for a significant reduction – especially if directly-elected mayors took over a lot of the day-to-day grunt work.

Determining the "the ideal number" would be tricky. There are a number of things to factor in including : population density, the physical size of the municipality, natural communities and natural boundaries (i.e valleys), splits between rural and urban areas within a municipality and ensuring an even spread of representatives.

For this exercise, I'm going to suggest :
Capping the number of municipal councillors at 50.

Each new multi-member ward (explained further down) should have a minimum of 3 councillors.

Defining a "minimum number" of municipal councillors by banding municipalities by population.
Based on this, and using rather arbitrary numbers on the map opposite, that means there would need to be at least 774 councillors, perhaps rising to 780-790 based on individual municipal needs.



N

o municipality would have more than 50 councillors

and

municipalities with similar populations would have a similar number of councillors. When populations change, then municipalities may move up or down a band and lose/gain an appropriate number of councillors.

Those councillors would be distributed proportionately amongst multi-member wards based on ward populations. But each ward should have a minimum of 3 councillors, regardless of population, mainly to protect representation of large, sparsely-populated rural areas.

I think one way to create a large, multi-member wards that people could associate with is to use secondary school catchment areas as the basis. I'm going to try this with Bridgend further down.

Elections
Should we stick with what we know (re. proportional voting)
or do we need to use things like open lists or STV?
(Pic : Victoria State Parliament)
Mayors could be elected by supplementary vote (the same as that used for Police and Crime Commissioners). Everyone has two votes. If a candidate doesn't achieve a majority straight away, all but the top two candidates are eliminated. The second preferences of the eliminated candidates are distributed to decide a winner. I think this is fair, as it means that the winner would (usually, but not always) end up with the majority of votes.

Municipal Councillors should be elected via a proportional voting system in multi member wards. That could be D'Hondt – which maintains "one person, one vote" - or it could be via something like Single Transferable Vote (STV), which ensures similar levels of proportionality, but would enable people to vote for an individual candidate rather than a party list.
Mayors and councillors shouldn't be able to "double job" (hold two public offices at the same time). Mayoral candidates can run for the council and mayor at the same time, and if they

'

re elected mayor, then their council seat would simply pass to whoever's next along the party list.
However, if any of them considered running for a higher office, like regional (Part IV), Assembly or something like an MEP, then they would be expected to resign their council seat if they

'

re successful. The vacant seat would then pass to the next person along the party list. If there's no person to pass the seat too, then a by-election via supplementary vote could be held.

The "Independents" problem

Obviously a shift to a list-based proportional system – like D'Hondt – would make it harder for "Independent" candidates to get elected.

If you really wanted to protect the principle of "one person, one vote" you could simpl

y

have D'Hondt, but with an open-list system, whereby people would not only vote for a party – or, in this case, a list of Independents – but determine the order by which candidates are placed on the list. The candidate with the most votes would be ranked 1, second most votes 2 etc.

I prefer using D'Hondt because it's easier to understand and people are used to it via Assembly elections. STV wouldn't have this problem as you vote directly for a candidate and a party at the same time. So, STV would probably be better overall to protect Independents, but you would lose the principle of "one person, one vote" which some people - or rather, some parties

-

are keen to protect.

How could municipalities operate?
(Click to enlarge)
I'll go over things like pay and setting national standards for things like transparency and professionalism in Parts V & VI.

The mayor would be a 24-hour, full-time role. They would be expected to give up any secondary employment and would be the highest-paid member of staff in the municipality. They wouldn't sit in the council itself, and would only appear before them to be routinely questioned – perhaps on a monthly basis

-

with extraordinary meetings held at the request of the whole council.

Councillors themselves would be a part-time role

-

as currently. Council meetings could (ideally) be held at evenings and weekends to encourage full-time workers, and people with family responsibilities, to run for council seats, hopefully improving the demographic make up.

In think, in terms of operation, it would be quite similar to how it is now. The only difference is that there wouldn't be a cabinet, just the mayor,

a

nd municipalities would have fewer res

ponsibilities.



Whole council meetings could be held on a more regular basis, in my opinion. The council would also appoint a chair/presiding officer at the start of each term to oversee whole council meetings.The job of the whole council would be to raise issues of municipal importance, scrutinise and amend things like the budget and byelaws, as well as hold the mayor to account.



M

ost of the scrutinising of local government departments would be done via committees. The council would decide at the beginning of each term appointments to the committees, but they should ensure a fair representation of party make up. Each councillor should be a member of at least one committee, and each committee would appoint a chair.

Some committees would be established by statute (i.e. development control, licensing, standards/conduct). In terms of "subject" and departmental committees, councils

could

decide how to arrange them themselves. They could have smaller committees covering very specific matters like playgrounds, or they could have large committees covering playgrounds, leisure services and culture.

Planning and licensing committees

c

ould have exclusive power to approve or deny applications, and would do so based on the advice of officers. Other committees would simply work to ensure that local government services are being run effectively and in line with whatever promises the mayor makes.

Officers would be held to account directly by the committees, but it wouldn't be a case of committees "approving" or "modifying" what they do – that would be the mayor's job, and it's currently the job of unelected chief executives. If the officers aren't up to the job, the mayor can

sack

them.

A (fictional) scenario – Bridgend Municipal Elections

Firstly, a look at the wards. As I noted further up, I've based the wards on secondary school catchment areas, which are large enough to ensure a decent number of people and are something people

c

ould "identify with". I've split Coleg Cymunedol y Dderwen into the old Ynysawdre and Ogmore catchment areas, simply because a "Dderwen" ward is – in practical terms – far too big. You can probably think of your own way of doing this for your own local authorities.
Multi member wards (39 councillors) for Bridgend
municipality, based on secondary school catchment areas.
(Click to enlarge)
With a minimum number of of 38 councillors – based on "population banding" mentioned earlier - that works out as one councillor for every 3,663 residents.

T

he population of Bridgend municipality (139,178) means there's room for 39 councillors – the "extra" one going to Ynysawdre to ensure an even spread. Any councillors on top of that would go to Porthcawl and Cynffig – which are "under-represented" based on population. All wards also meet the 3 councillor minimum.

Based on the 2012 local elections, I used this tool to calculate the "results" using the D'Hondt method. It's based off the total number of votes cast – which includes voting for multiple candidates - so it's far from 100% accurate, but I think it generally would reflect the overall balance.
Mock Bridgend municipal election results, based (loosely)
on the 2012 local election results and using D'Hondt.
(Click to enlarge)
Compared to the 2012 results, Labour lost 12 seats, but that's simply because of a reduced number of councillors from 54 to 39. They still comfortable retain a majority. The

Independents

and

Liberal Democrats

did proportionally similar to 2012. The

Conservatives

did significantly better than their 2012 results, while Plaid also gained a seat.
It's unclear if people might switch from an Independent to a party candidate if there were a "closed list". Nor is it clear whether

under

STV some individual councillors would do better/worse based on their record in office.

Judging by the votes for the council, the mayor would presumably be

Labour's

Mel Nott, who would likely win without the need for a second round by taking more than 50% of the vote. Labour could, of course, put up another candidate. It's unclear who the other parties would've put up for mayor.

Part IV will look at regional/strategic government, which could form the basis for a federal/devolved system within Wales.